May 19th, 2018 marks the 11th Anniversary of All Things Jeep's Worldwide Go Topless Day® and celebrations are scheduled around the world! We started this as a local event in our sleepy little town in Central Massachusetts and it's turned into the biggest celebration of Jeep ownership in the world! Back in May of 2008 we had just finished a particularly brutal New England winter and we wanted to celebrate the beginning of warm weather and the beginning of topless weather for us Jeepers. So we created an event. We had about 65 Jeeps show up at the meet-up we created at a farm stand in Lancaster, MA. And some of our customers in other parts of the country heard about it and wanted to also host events. So they did. But Jeepers are an enthusiastic bunch. By the following year, our local event had a DJ, an ice cream vendor, off-road trails, a few RTI ramps and vendor giveaways. I bet some of you reading this were there!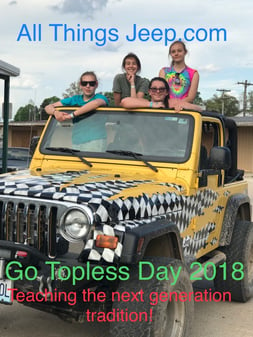 The next year it grew. Jeep clubs, dealerships and groups wanted to participate also. We said, "Absolutely", and the number of hosted events grew. We created Go Topless Day® apparel, made GTD stickers that we gave away for free, and year by year, more Jeep communities began participating. We launched a "Getting Ready for Go Topless Day®" Photo Contest and gave away some fun prizes. (Photos here are compliments of our entries this year!) We had events planned on multiple continents. Jeepers had fun and have turned the day into a day of raising money for charities. Which brings me to this year....
This year we currently have over 130 Go Topless Day® events scheduled across the country and across the world. This year you'll find events like Jeep'n Alaska's Go Topless Day® 2018 event in Wasilla, AK and Big Island Jeep Club's first Go Topless Day® event in Kailui-Kona, HI and almost every state in between. There's GTD18 events in Australia, Columbia, Canada and South Africa.
One of the largest and most fun Go Topless Day® events is our flagship event in Monson, MA that we co-host with Ocean State Jeepers. It's grown into an event with almost 1000 Jeeps and over 3000 Jeepers. Folks show up to do the trail rides, shop the vendor midway, enter raffles for some great prizes, hang out with other Jeepers, and, of course, to admire almost 1000 Jeeps. Jeep Beach Jam in Panama City Beach, FL will be aiming to make a Guinness World Record with the most topless Jeeps in one place. The great thing about Go Topless Day® Jeep events is that they can be anything! Our goal has always been to simply celebrate the fun and adventure that comes along with owning a Jeep.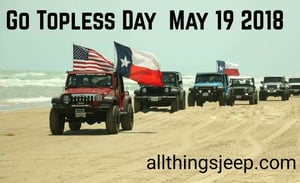 This year there are poker runs, beach cleanups, drive-in movie nights, coastal cruises, Show & Shines, picnics, events at Jeep dealerships, in the woods, on the beaches and in the parks.
The complete list of All Things Jeep's Go Topless Day® 2018 registered events is here. No matter where you are or what kind of Jeep you drive, we hope you'll take some time on May 19th, 2018 to join in the Go Topless Day® spirit, and get behind the wheel of your Jeep, crank up some tunes and enjoy the ride. It's a Jeep thing and we DEFINITELY understand!