Jeeps may be the official vehicle of summer, but summer doesn't last. Every year the schools fill with children, nights start to get cooler, and autumn ushers itself in. For many of us, the warm breezes and open sunshine of topless driving fade into buttoned up Jeeps with cranking heaters. Luckily, Jeeps are also the perfect vehicle for fall! Get excited for the season with our list below.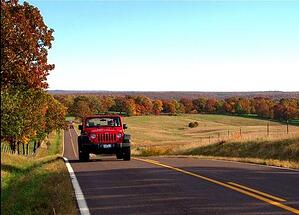 Take a Scenic Drive - All across the country, the leaves are beginning to change and the roadsides will soon become canvases of color. Jeeps were made for adventure, so bundle up and take the top down for a tour of your local leaf show! The open top will give you a panorama view of the scenery and you'll be able to savor one last topless drive, even if it's a chilly one. Plan to stop and enjoy your area's local attractions as fall plays host to apple picking, pumpkin patches, Oktoberfests, family festivals and more.
Get Closer to Nature with a Club - Another great way to enjoy fall's natural beauty is getting out into the wilderness and exploring your Jeep's off road capabilities! Look up a local 4x4 club and check out their trail ride calendar. Many clubs are excited for new members to join and have runs varying in difficulties from extreme fall crawler to stock leaf peeper. You'll be inspired by more than just the scenery as you admire the rigs of the other members on the trail. Think of how you'd like to personalize and build your own Jeep and take note for your Christmas wish list!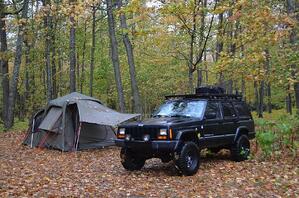 Camping - After a long day on the trail, nothing beats sitting around a campfire regaling the tales of the day. Of course, campfires go hand in hand with camping, and it's not too late to load of the Jeep with your tent and camping gear and take off on an outdoor retreat. The cooler weather will mean emptier campgrounds and there's plenty of creative ways to make more storage in your Jeep to pack the necessary extra layers.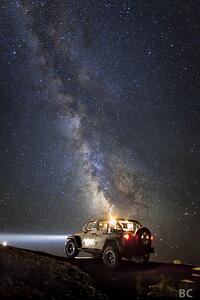 Star Gazing - As the long days of summer fade, you gain extra hours to admire the night skies! The colder, drier air increases the clarity of the stars, making autumn a great time for casting your eyes upward. Check the weather and astronomy reports, find a remote spot as far away from light pollution as you're willing to travel, and park the Jeep. If you have a soft top, take the time to drop the top, turn up the heat, and recline the seats. We promise it's worth it! Hard top owners can pop out the freedom panels or climb up on top of the Jeep for an even better open view - try getting extra cozy with a special Jeep friendly air mattress! Layer up on the blankets, crack open your warm thermos, and enjoy a night you'll never forget.
Top Decisions - If your hardtop has been hibernating, now's the time to drop it back on. Consider investing in a soft top storage system to keep your top neat and protected during the off season. Before you remove and store it, take the time to clean and protect the top, windows and zippers too! Same goes if you'll be keeping your soft top on year round. Soft top and window care products work best in a certain temperature range, usually between 50 and 75 degrees fahrenheit. The special formulas are designed to keep your top protected against winter's strong UV rays and the regular maintenance will keep it lasting for years to come.
Tailgating - Fall means football season! Put on your face paint and take the Jeep to the big game! You'll be the talk of the tailgating party when your Jeep arrives sporting your team pride. Pee wee footballers would love a spirit boost from a custom tire cover with their team's name and logo while college and NFL fans can show their allegiance with officially licensed tire covers. For the ultimate fan, we have colorful and custom-fit collegiate Jeep seat covers that will put you in the lead for your school's spirit award!
Finish Up Mods - Haven't installed those fender flares yet? Side guards still sitting in a box on the floor? Before the holiday rush starts, set aside a day or two to finish up any lingering projects on your Jeep. You'll be thankful it's done when the days so cold it hurts to hold a wrench roll around. You can also take inventory on which tools and parts you'll be adding to the Christmas list.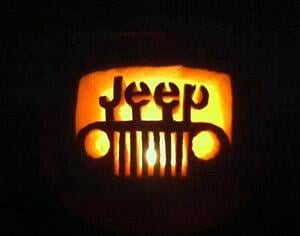 Halloween - Jeepers Creepers! Halloween is just around the corner! It's time to start brainstorming pumpkin carving ideas for our annual Jeep-O-Lanetern contest. For those who prefer a set of installation instructions, we have pumpkin carving templates to inspire and guide you. Is your Jeep worthy of being an official zombie apocalypse response vehicle? Choose a theme for your Jeep and have fun dressing it up for the holiday! We love to see how creative Jeepers are when it comes to transforming their Jeeps for Halloween.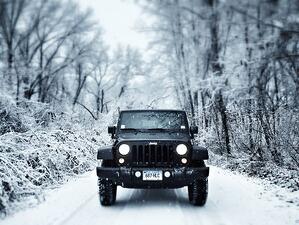 Winterize - Winter is coming…that's okay, you drive a Jeep! If your climate calls for it, prep yourself for the impending cold and snow with a pre-winter checkup on your Jeep. Check your tires to make sure there's enough tread to get you safely through the storms and top off the washer fluid so you're ready for the road treatment battle. Stash the hat, scarf, mittens and scraper in a convenient roll bar storage bag and you'll be happy to see those first flakes fly and shift into 4 wheel drive.
Now that you have a fun to do list for your Jeep, you'll have new ideas to enjoy the autumn season with! Remember to share your pictures and fun experiences with All Things Jeep!