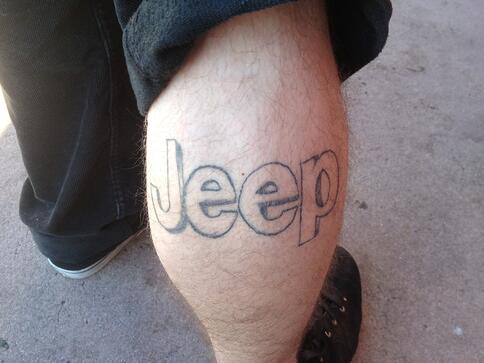 "Hi Folks,
I ran into one of our biggest fans this morning. We will all be doing this (see attached photos) during our next offsite.
Todd"
It was a recent Monday when the the preceding e-mail, accompanied by the preceding photo, entered the inbox of each of us at All Things Jeep. Our fearless leader, Todd, had been inspired by an early-morning encounter on the way to the office.
So we're getting tats — never mind the irony that the ATJ team of managers made it back from SEMA in Las Vegas tattoo-free and relatively in one piece only to eternally emblazon all of our Jeeply passion on each of our right calves.
The guy's name is John, and he just might be a Jeep fanatic, which of course, in combination with his apparent level of dedication, makes him lovable. Thing is, we think the boss might be serious. We all got a good giggle of what Todd called in the e-mail subject line a "team must-do," but when we joked about getting tipsy and heading over to the tattoo parlor after work, he didn't flinch.
Half of us are afraid of needles. Thanks a lump, John. Well, it does look great on you, man.