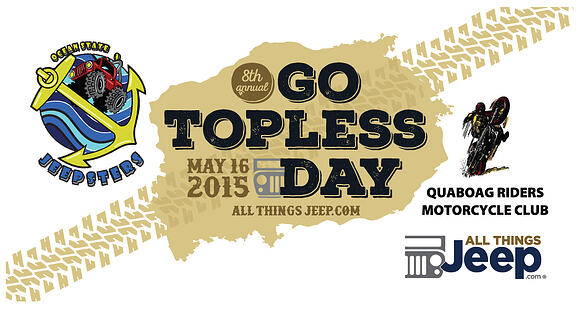 Hundreds of Jeep owners and off-road enthusiasts will join All Things Jeep and the Ocean State Jeepsters for the eighth annual Go Topless Day, a celebration of spring and the sense of fun that comes with owning a Jeep. The East Coast Flagship event will be held at the Quaboag Riders Motorcycle Club in Monson, Mass. on May 16th, 2015 starting at 9am and will draw participants from all over the northeast US.
The event will feature more than 600 Jeeps on show, guided trail rides of different ratings, kid's activities, a vendor midway, raffles, an RTI ramp to test a Jeep's flex, and food for purchase. In honor of sharing the date with Armed Forces Day, All Things Jeep will be handing out military swag bags at their tent for those with a military ID and will have a pre-made cards for attendees to sign for deployed troops. There will also be men's, women's and youth event tees for purchase. Attendees are encouraged to bring their families and friendly, leashed dogs to enjoy the day.
AllThingsJeep.com, an online Jeep gift store, started small and grew fast - a trait that it shares with Go Topless Day. The company's founders conceived the first Go Topless Day in 2008 after a particularly brutal New England Winter. As many Jeep owners will attest, removing the top from the Jeep Wrangler, or "going topless" is one of the most enjoyable aspects of ownership, especially so after months of cold weather. AllThingsJeep.com started a kick-off celebration of the topless Jeep season for the local community that has since grown to include thousands of participants around the world.
For more information on the Flagship East Coast event, visit http://www.allthingsjeep.com/go-topless-day-2015-east-coast-event.html
More details can be found online at http://www.allthingsjeep.com/go-topless-day.html. Go Topless Day events are held worldwide, so local events can be found for those not in the New England area as well.