JeepJam announced their 2010 Jamboree schedule yesterday and true to form, I want to go to all of them!
You can find the entire Jeep Jamboree 2010 Schedule Here.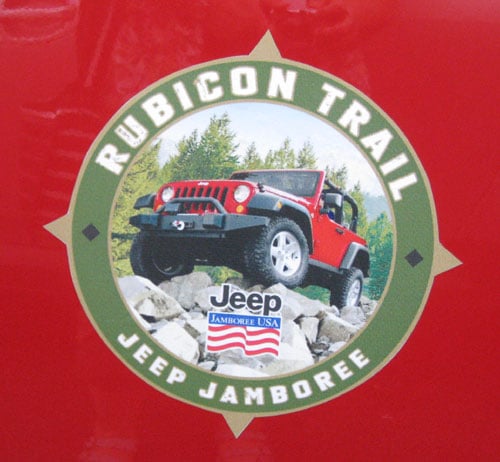 This year, our closest Jamboree is up in Bethel, Maine, a beautiful location, especially in the fall. Last month, Norman, the President of AllthingsJeep.com and Mike, in Customer Service went up to that event. There were some pretty heavy downpours on the 2nd day and the Jeep came home muddier than I've ever seen it. ('83 CJ8) In the New England woods, the trail is narrow, the rocks are moss-covered and the rain makes everything slippery. So it's quite a wheelin' adventure.
We know Jeep Jamborees are a luxury expense. Not a necessity ('though some may argue) and with finances tight, the folks over there at JJUSA have come up with some "family plans" that help make these adventures more affordable. Besides, family time together is a great thing (just ask my teenage daughter.) Kidding aside, she loved it when we did a Jamboree last summer.
Excepted from their website:
"In an effort to make Jeep Jamborees more affordable for the 2010 season, we're offering a Family Plan for both Classic and Just Trails Jamborees. The price per vehicle for Classic events is $600, while Just Trails Jamborees are only $450. The fine print: Two adults and two or three children (12 and under) are required per vehicle.
Another opportunity for Jeep fanatics on a budget is the Trails Only option, which is offered to a limited number of registrants (first come, first served) at each Jeep Jamboree USA event (due to lack of facilities this offer does not apply to the Palo Duro or Rubicon Trail Jeep Jamboree events). Trails Only participants enjoy all of the usual Jamboree amenities (including the Saturday evening prize drawing) but provide all their own meals.
In addition, active members of the Armed Forces will receive a 15 percent discount on all Jamborees. The Buy 3 Get 1 FREE promotion will be continued in 2010, with only adult passengers eligible for this offer. And we're bringing back the dash plaques! Each registered Jeep vehicle will again include a dash plaque.
Remember December 1st is the opening registration date for the 2010 season. We look forward to seeing you on the trail."