Jeep girls do it in the mud and Chantelle proves this with her answers below. Like mud? Read up.

1. What are you currently driving? model? year? color? etc.
1998 Jeep Wrangler Sport (Red) & 2007 Jeep Wrangler Rubicon (Black).


2. Tell us your favorite modication you have made to your current Jeep.
2007 having a 5 1/4" lift all round with 37" tires.

3. When dd you get your first Jeep and why did you choose a Jeep?
Received the red Jeep for my birthday in September '06... Always wanted one and I was surprised with it! Then we took it out 2 days later and hit a tree at Rausch Creek Off-Road Park.

4. Where's the most interesting place you've had your Jeep?
In the corn fields at Oak Ridge Estate in VA and at Big Dogs.

5. What is the most interesting thing you've DONE in your Jeep?
With the participation of my club(www.hardrockcrawlers.org) I
learned from the seasoned vets how to install lifts, etc. On the '07 Jeep my husband and I did all the work!

6. Ever get arrested while in the Jeep? For what?
Nope.

7. What music do you listen to while driving the Jeep?
Everything from country to pop.

8. How many Jeeps have you had in your lifetime?
2

9. If you could win any Jeep, past or present, what Jeep would you want to win?
Jeep Rubicon... They are an amazing vechile!!!

10 Does your Jeep have a name? What is it?
'98's name is Pookie... '07's name is still in development.

12. Is it a boy or a girl? Both girls

13. Tell us about any stickers or custom work you have on your Jeep?
'98 Jeep - www.hardrockcrawlers.org, Big Dogs (2)...
'07 Jeep - East Coast (jk-forum.com), Texas chrome emblem and flip flops

14. What's the most unique thing about your Jeep?
Right now, it looks like an insect!

15. If you are a member of a local Jeep or off-road club, give a shout out to the club here:
www.hardrockcrawlers.org and don't forget...
www.project-jk.com
www.jk-forum.com

16. If you were a Super Hero and your Jeep had extradinary powers, what would those powers be?
It would have the power to turn rocks into mud and create mud on the spot... I think I like MUD!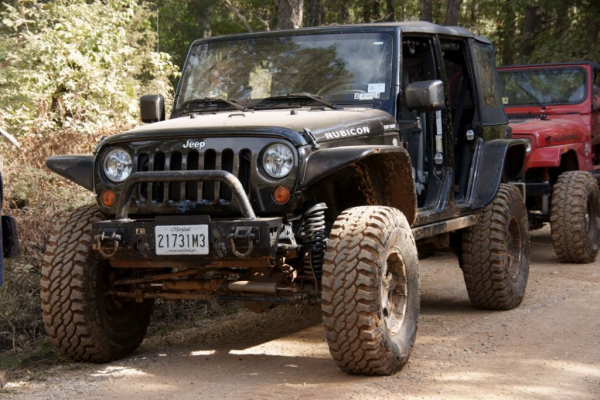 17. If you could chose one new gift for your next birthday, would it be:
- a new 2009 4 door Jeep Wrangler Rubicon
- a fully restored, 1941 Jeep Willys
- world peace
- a million dollar gift certificate to www.allthingsjeep.com
(this is a loaded question, we do hope you all choose world peace)
Why can't I have it all?

18. What are your 3 favorite products available for sale at
www.allthingsjeep.com <http://www.allthingsjeep.com/> ?
Any apparal, jewerly (love the jewlery) and the kids clothes!!


Chantelle Kern
Lusby, MD