Heidi's entry into our Customer of the Week made us sit up and take notice. She drives a Jeep Patriot! And she's enthusiastic enough about it that we felt she could take any ribbing you want to give her about not driving a "real Jeep". In fact, based upon her responses below, we bet her next Jeep will be a Wrangler. Here's Heidi's story:
1. What are you currently driving? model? year? color? etc. 2008 Jeep Patriot, Jeep Green of course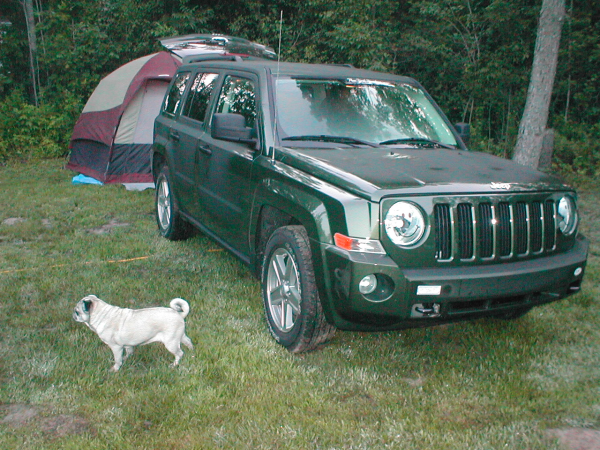 2. Tell us your favorite modication you have made to your current Jeep. Putting the Jeep seat covers on.

3. When dd you get your first Jeep and why did you choose a Jeep? This is my first Jeep which I got last year (I specially ordered it before the 2008 were available). I am from a long line of GM employees and buyers, I was tired of vehicles that couldn't stand up to what I needed. I decided that only a Jeep would do... I WAS RIGHT!!! I am hooked and will never go back.

4. Where's the most interesting place you've had your Jeep? I can't say, because it was illegal to be where it was!

5. What is the most interesting thing you've DONE in your Jeep? Transported 8 animals 125 miles (one way) to be spayed and neutered. Talk about a lot of noise!!!
6. Ever get arrested while in the Jeep? For what? Not yet!!!

7. What music do you listen to while driving the Jeep? Everything... Old Blues to Rock & Roll.

8. How many Jeeps have you had in your lifetime? This is my first, but not my last!

9. If you could win any Jeep, past or present, what Jeep would you want to win? Any -- Aren't they all fantastic?!!

10 Does your Jeep have a name? What is it? Josie the Jeep
11. If it doesn't have a name and you had to name it, what would you call it?

12. Is it a boy or a girl? Definitely a girl.

13. Tell us about any stickers or custom work you have on your Jeep? I have a replica Black Bear paw print on the lift gate as if the bear had swiped at the vehicle as it went by. There is also a replica Brown Bear paw print in the spot where one had actually left a print in the dust & dew. Of course there are a few other stickers, Life Is Good, Key West Mile 0, Paved Roads - Another fine example of unnessary government spending, Sloppy Joe's (Key West Bar), a couple animal rescue, and of course ALL THINGS JEEP sticker.

14. What's the most unique thing about your Jeep? It's the only one in my family of GM drivers. But everyone loves it and is always asking if they can drive it.


16. If you were a Super Hero and your Jeep had extradinary powers, what would those powers be? That I could drive it under water.

17. If you could chose one new gift for your next birthday, would it be:
- a new 2009 4 door Jeep Wrangler Rubicon
- a fully restored, 1941 Jeep Willys
- world peace
- a million dollar gift certificate to www.allthingsjeep.com
(this is a loaded question, we do hope you all choose world peace) It would definitely be World Peace, because once there was World Peace it would be much easier to get the other items any way!

18. What are your 3 favorite products available for sale at http://www.allthingsjeep.com/? How can I REALLY pick only 3??????