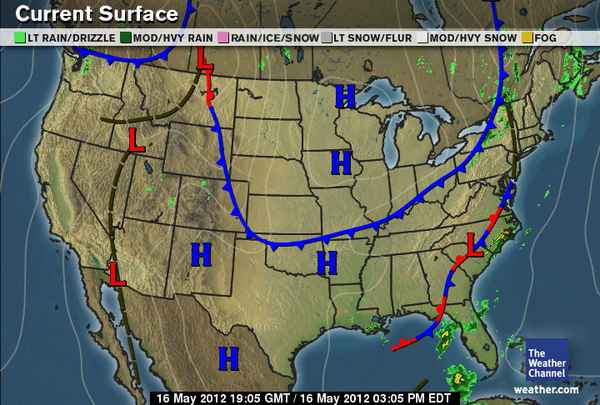 Weather looks promising enough. Let's hope it keeps through our topless weekend.
Here we are, a scant four days away from our holiday that they wouldn't understand. Yes, Jeepers, three sunrises, four sunsets, away. Here in California, as always, the weather is sunny and cheery and in fact we're all practicing for Go Topless Day by knocking our tops off and Jeeping about. In fact, across most of the country, we have nice, sunny pleasant weather. If we can keep this up for another few days, Go Topless Day will go off without a hitch.
The weather map confirms this story – very few patches of precipitation, and only in pockets of the East Coast. Should clear up – just don't go sending it this way!
The bad news is that, while we've been shipping Go Topless Day shirts by the bucket, the days between now and Go Topless Day are growing a bit thin to rely on postal service delivery by May 19. Hope you've already got your Go Topless gear!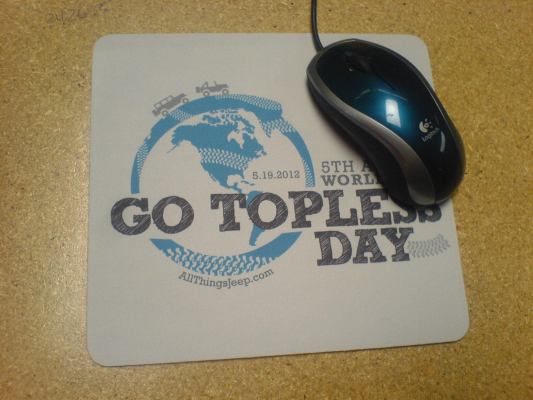 This Go Topless Day Mousepad can be yours ... free
If not, don't despair, all orders totaling $75 or more earn you free standard shipping, along with a free Go Topless Day keepsake in the form of a pretty groovy little mousepad. Thus, every time you go to your computer to connect with Jeepsters and log onto AllThingsJeep.com, you'll be reminded of your 2012 Go Topless Day. Cool even if it comes after Go Topless Day – it's not like you'll use your mousepad on Go Topless Day itself, anyway!