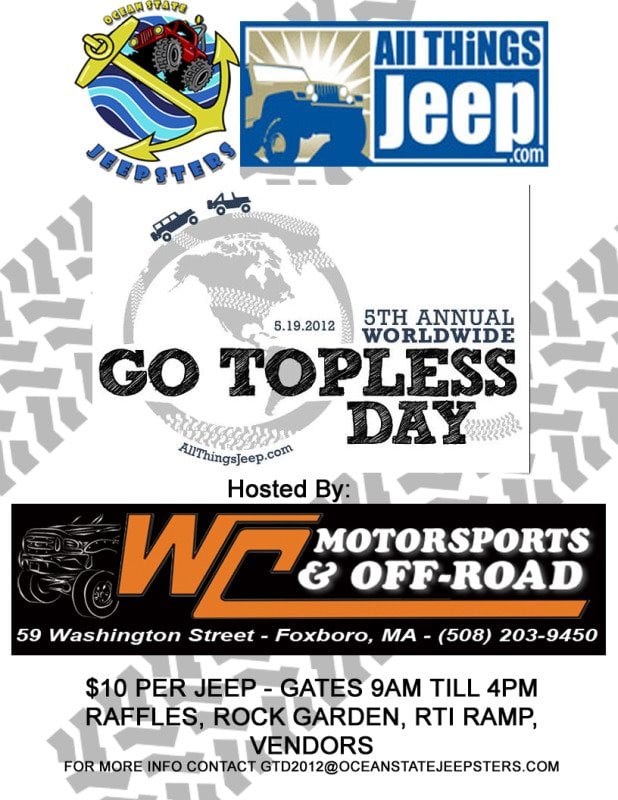 Local Jeep owners and off-road enthusiasts will join All Things Jeep and Ocean State Jeepsters for the Foxboro, MA, celebration of the fifth annual Go Topless Day. It will be held at WC Motorsports, just across the street from Gillette Stadium. The event, hosted by Michael and Stephen Nashawaty of Taunton, MA, will be sure to send hundreds of Jeeps crawling up Route 1!
The event will feature a Rock Garden, RTI Ramp, a "Jeep Playground," activities for the kids, food vendors, Jeep vendors and Raffles.
More details may be found at http://www.allthingsjeep.com/ go-topless-day.html. If you're not lucky enough to live in Massachusetts, be sure to check the site – chances are, your local Jeep club is coming around and hosting an event of its own.
For more info, contact us at gtd@allthingsjeep.com.
Go Topless Day is a worldwide phenomenon during which off-roaders shed their Jeeps' tops in celebration of the sport of off-roading. The first Go Topless Day was held in the spring of 2008, a small gathering of enthusiasts in Lancaster, MA. The idea came to Jean and Norman Wnuk, founders of AllThingsJeep.com, as they thawed out during the close of a brutal New England Winter. They realized that Jeep and Off-Road communities needed a special day to rejoice the beginning of the Topless Season.
Since then, participation has grown to over 150 clubs, as Go Topless Day annually unites topless Jeepers everywhere to celebrate of the off-road lifestyle and form parades, organize cleanup events, picnics and, our favorite, pose for pictures.