Our plans for the Go Topless Day 2010 Worldwide Event for ALL Jeep Owners really couldn't be going any better. Well, it could be going better. Oprah could have us on her show to discuss the benefits of going topless. Simon could tell everyone on American Idol that he was leaving the show to MC our Go Topless Day here in Lancaster. And Biden could have whispered "Go Topless Day is a big F***in Deal. But aside from all those wonderous possibilities, things are going good. Want to give you all an update. Kinda be the traffic director for the 2010 Go Topless Day Festivities. Just to make it fun, I'll do it in Q&A format.
Question: Is there a Go Topless Day Event happening in my neck of the woods?
Answer: There may be. There's about 50 Jeep clubs (and counting) signed up to participate in Go Topless Day 2010. The clubs or local groups are sponsoring picnics, trail rides, beach parties, barbeques, parades and more on May 8th 2010 - all over the world. Here is the whole list of participating Jeep Clubs Going Topless on May 8th 2010. If you are looking for an event to join, you may find one there.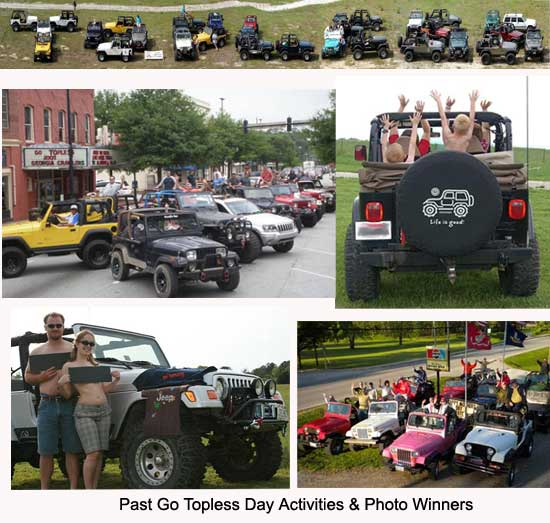 We've also got a All Things Jeep Go Topless Day Facebook Page where the club activities are being listed (and you can post your own activities.)
Question: If I host some type of activity, can I get anything for free?
Answer: Always wanting something for free, eh? Sure you can! You tell us what you are doing and how many Jeep owners are showing up and we'll send you some bumper stickers, maybe a t-shirt, etc. In return, you gotta post a link on your website back to our Go Topless Day, okay? (contact email info @ allthingsjeep.com )
Question: Is there any contest or anything I can win?
Answer: Again with the free stuff? The answer is YES. We are having a Go Topless Day Photo Contest for GTD 2010 and you can win Gift Certificates to AllThingsJeep.com. And get your photos added to our historical record of Go Topless Days. Whoo-hoo.
Wanna check out some photos of our prior Go Topless Days? They are all right here in our glorious All Things Jeep Photo Album. Gotta say, some of those photos are priceless!
Question: Anything I can get for free just for reading this blog?
Answer: Absolutely. Would we let you down? Get a business sized envelope. Put a stamp on it. Address it to yourself. Fold it up and put it in another stamped envelope addressed to us at:
All Things Jeep
GTD Decal
2 Shaker Road, Unit F01
Shirley, MA 0464
We'll send you a beautiful GTD Bumper Sticker. Free.
Question: What if I want to spend my hard earned money on Go Topless Day Shirts?
Answer: Ok, that'd be great. Get yourself a Go Topless Day 2010 Limited Edition T-Shirt Here for just $10. Buy 10+ and they go down to $8 each. Buy 25+ and they go down to $7 each.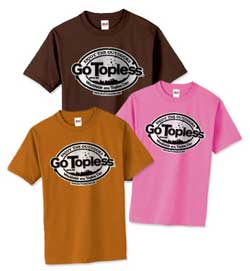 Finally, The main page on our website that shares all the news about GTD is http://www.allthingsjeep.com/go-topless-day.html
We hope you'll join us on May 8th 2010 in celebrating the Jeep spirit. Whether you are topless on a beach, fully clothed at work, in a Jeep CJ5 at the ice cream stand, in a Jeep Liberty doing carpool, or crawling the local mountains in your XJ, take a moment to stand proud and remember, You are a JEEP OWNER. Ain't it great?