Strattec Codeable Padlock for your JeepHow many keys are on your keyring? How big is that bulge in your pants pocket? How many times have you lost a key to one of your many locks? Depending upon the day, your answers may go like this. 13, big, five or six. So I was pretty stoked to come across this new product. The World's First Codeable Padlock by Strattec.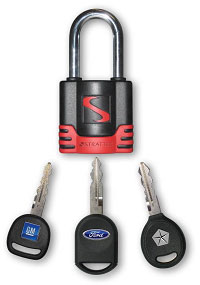 When you look at the packaging of this padlock, the first thing you notice is that there's no set of keys with the lock. That's because it uses one of your existing keys to unlock it. For most people, this key will be your ignition key. For me, it's the ignition key to my Jeep Wrangler.
After you open the Strattec Codeable Padlock packaging, you simply insert your ignition key into the lock, turn it a few times and the padlock "learns" your key and sets itself to be unlocked using your key. The more technical details follow, but basically this now means that you can buy a few of these padlocks, set them all to use your ignition key, and dramatically reduce the amount of keys you have to carry around (and potentially lose.)
My Jeep's key can now unlock the padlocks on the back of the All Things Jeep trailer, the lock on the trailer hitch, the metal toolbox in the back of the Jeep, the lock and chain I use to lock up our bikes, the lock on my metal locker at the gym. Well you get the idea.
At AllThingsJeep.com we sell the version that works with most all Jeep Keys and it's under $25. There are other versions available for other vehicle models too.
One key. Many locks. Pretty nifty, huh?