Here's Nathan (from Ontario, Canada or Michigan, US, I'm not really sure!) I love his comments but almost didn't give him this prestigious title due to his totally sexist comment about women and money. ; ) But love his Jeep so here he is!
1. What are you currently driving? model? year? color? etc.
2003 Jeep TJ Rubicon, Khaki Metallic with Khaki Top and Interior.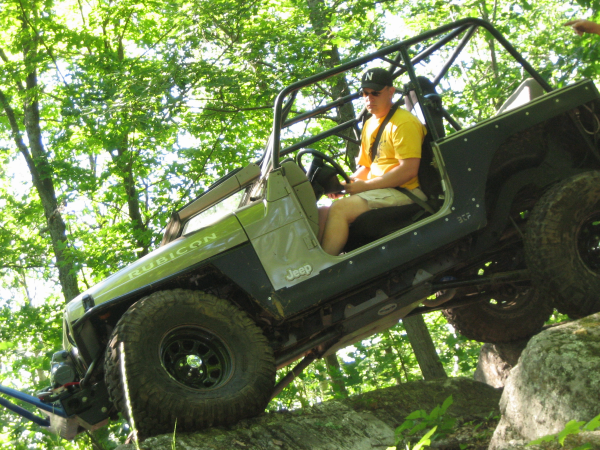 2. Tell us your favorite modication you have made to your current Jeep.
I just stretched the wheelbase 6" over the winter, and I LOVE the added stability and climbing ability!

3. When dd you get your first Jeep and why did you choose a Jeep?
I got my first Jeep when I graduated high school. I had always wanted a Wrangler, so it was my first car. I immediately started wheeling at Jeep Jamborees, and I now own my 3rd Wrangler. I don't really know what attracted me to them at first, but the top-down wheeling is one of my favorite things that I have ever done, and I get to do it quite a bit every year!

4. Where's the most interesting place you've had your Jeep?
The top of Green's Mountain in Ontario, Canada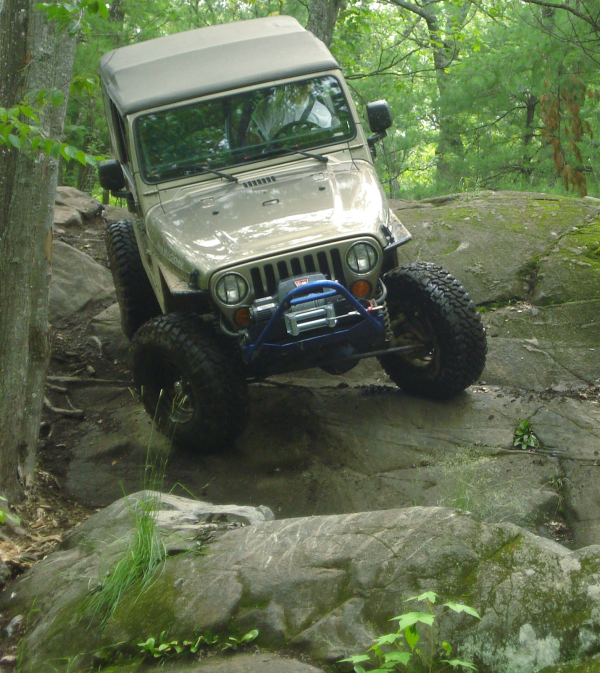 5. What is the most interesting thing you've DONE in your Jeep?
Don't really know how interesting it is, but had it on its side in July 2003 on a night trailride with 10 other Jeep Jamboree guides!

6. Ever get arrested while in the Jeep? For what?
No

7. What music do you listen to while driving the Jeep?
Mostly country music, but I will listen to pretty much anything with a good beat that is fun to sing/yell along to!

8. How many Jeeps have you had in your lifetime?
Three, all Wranglers, a 1990, 1991, and my 2003.

9. If you could win any Jeep, past or present, what Jeep would you want to win?
I would love to have a fully restored CJ-6

10 Does your Jeep have a name? What is it?
No

11. If it doesn't have a name and you had to name it, what would you call it?
I call it Rubi sometimes, but just because it says "Rubicon" on the hood...

12. Is it a boy or a girl?
Must be a girl because it goes through money so fast!

13. Tell us about any stickers or custom work you have on your Jeep?
I have a WranglerForum.com sticker on the rear of the rollbar because I am a moderator on that forum. I have done a bit of work to the Jeep: Tube fenders in the front, and comp-cut corners in the rear. I stretched the wheelbase 6", off of a 6" Full Traction Long arm kit. It has a custom roll cage that is tied to the frame at 6 points. And some other stuff...

14. What's the most unique thing about your Jeep?
Sometimes it decides that it doesn't want to start on the first try!

15. If you are a member of a local Jeep or off-road club, give a shout out to the club here:
I am a member of the London Area Jeep Owners Club out of London, Ontario Canada

16. If you were a Super Hero and your Jeep had extradinary powers, what would those powers be?
It would be able to leap tall buildings in a single bound.

17. If you could chose one new gift for your next birthday, would it be:
- a new 2009 4 door Jeep Wrangler Rubicon
- a fully restored, 1941 Jeep Willys
- world peace
- a million dollar gift certificate to www.allthingsjeep.com
(this is a loaded question, we do hope you all choose world peace)
Alright, we will go with world peace... Kinda like the 2009 Rubicon though, not gonna lie!

18. What are your 3 favorite products available for sale at http://www.allthingsjeep.com/?
Since I am getting ready to have a little boy in December, the Jeep camo overalls shorts and T-shirt is adorable. You guys have some great baby/toddler stuff!! I also love the "Native species" shirts, and the Jeep seatbelt purse!