There are those of us who love our car. And then there are those of us who love our Jeep. As the saying goes, "It's a Jeep thing… You wouldn't understand." But this holiday season, even if you don't understand, you can "fake it" with the 2017 Jeep Gift Buyers Guide for the Holidays from All Things Jeep. For the 15th year in a row, the company has compiled a list of this year's 10 most unique Jeep gift ideas. If you can't afford to put a new 2018 Jeep under the tree, you can put any one of these items there and still make your Jeep fan very happy.
THE TOP 10 HOLIDAY GIFTS for New Jeep Owners
1. Jeep Cookie Cutters for the Jeep enthusiast – What better gift for your favorite "Jeeper" than a plate of yummy Jeep – inspired cookies. These cookie cutters make both a front view and a side view of our favorite vehicle. The decoration is up to you! ($12.99)
2. Our EXCLUSIVE Life is Good "Native Offroad" Tee-Shirt - Our best-selling Jeep shirt during the first decade of business has been reprinted and we are thrilled to offer our EXCLUSIVE Life is Good "Native Offroad" Tee-Shirt on a soft, dark blue shirt. This is definitely one of the first Jeep tees a new Jeeper should own. The message is simple. Life is good! Exclusively available here. $25.99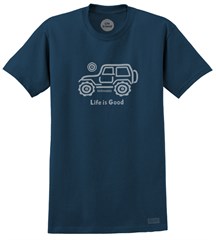 3. Jeep Rated Shot Glass-Set of 4 –The Jeep Rated Shot Glass Set includes four "rated" Jeeps you can assign to your friends. Trail Rated for the tough custom Jeep, Mud Rated for the Jeep that bathes in mud, Beach Rated for the sand dune and ocean lover, and Mall Rated for the newbie stock Jeep. These aluminum shot glasses easily stack making them perfect to bring on your next camping trip! $19.99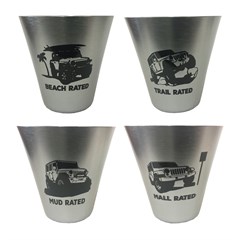 4. NEW! Jeep Don't Follow Me Laser Cut Silhouette Jeep Sign – Our newest sign says, "Don't Follow Me You Won't Make It" and is a Laser Cut Silhouette Sign that will look good against any backdrop. This sign is 14" x 14" 18g steel and has eyelets for easy hanging. $24.99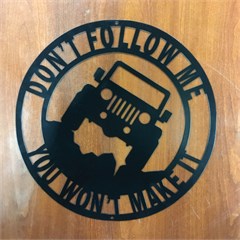 5. Jeep 2018 Wall Calendars - Count down the days to the next trail run or Jeep meetup with a Jeep calendar for your wall. It sure beats the one you get from the oil company every year. And it features some great looking Jeeps for inspiration. Starting at $14.99.
6. Jeep Beanie Knit Hat for Winter - No matter what color you choose, we think you'll be the most stylish dresser out there with the Jeep Knit Beanie. The knit hat featuring a Jeep logo is a great stocking stuffer. $14.99.
7. Jeep Gift Sets– We are making it easy for you to shop for your favorite Jeeper and have created a bunch of Jeep Gift Sets that bundle together a fun selection of products. We got them a Jeep Jewelry Gift Set, an Outdoor Winter Set, Jeep Pajama Bundles, a Jeep Dog Gift Set, and others. Starting at $34.99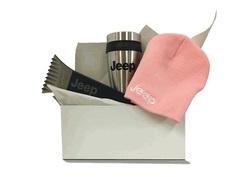 8. Jeep Hammerhead Shark Tire Cover – We have over 100 different tire cover designs for your Jeep and this one is an Exclusive that is really unique. Show your individuality with a tire cover that sets your Jeep apart from the rest. ($99.99)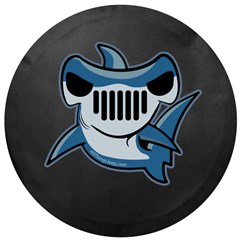 9. Holiday cards for Jeep lovers – Purchase these early enough and share the Jeep spirit with everyone you know. We have 4 new designs this year, all original artwork designed by our in-house graphic designer, Sam. There's something magical about these cards. ($15.99/set)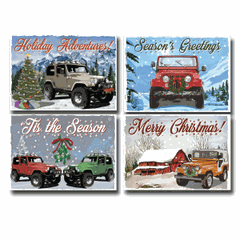 10. Choose from over 200 Jeep-licensed apparel items including t-shirts, sweatshirts, & jackets for men, women, children & babies. No, this isn't just one item. But with so many new Jeep apparel items, it was hard to choose our best pick. We'll leave this one for you. ($10 and up)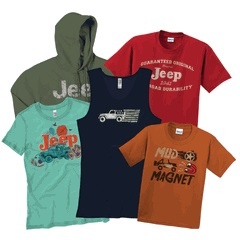 About All Things Jeep
All Things Jeep is one of the largest providers of Jeep apparel, gifts, accessories and memorabilia to the Jeep® and off-road market. Through outstanding service, product variety and quality, All Things Jeep delights Jeep® owners with items that enhance their adventurous lifestyles. Visit www.allthingsjeep.com for the perfect gift for Jeep® lovers including clothing, decals, jewelry, signs, tire covers, floor mats, seat covers, soft tops and more.