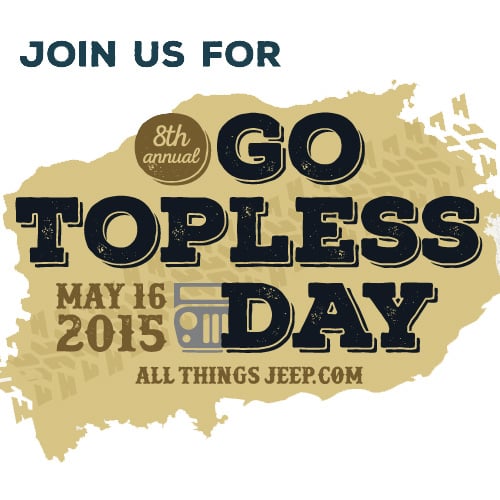 AllThingsJeep.com
announces their eighth annual
Go Topless Day
, a celebration of spring and the open air experience for Jeep owners and off road enthusiasts across the globe. Jeep clubs, dealerships and groups in more than 30 states and three countries will meet on May 16
th
, 2015 for over 70 locally organized events with more added each day. Each Go Topless Day event has selected a charitable organization to benefit, many with a military theme to honor sharing the event date with Armed Forces Day.
AllThingsJeep.com, an online Jeep gift store, started small and grew fast - a trait that it shares with Go Topless Day. The company's founders conceived the first Go Topless Day in 2008 after a particularly brutal New England Winter. As many Jeep owners will attest, removing the top from the Jeep Wrangler, or "going topless" is one of the most enjoyable aspects of ownership, especially so after months of cold weather. AllThingsJeep.com started a kick-off celebration of the topless Jeep season for the local community that has since grown to include thousands of participants around the world.
This year Go Topless Day shares the date with Armed Forces Day. Community is one of the most powerful aspects of both Jeeps and Armed Forces support. With that in mind, AllThingsJeep.com is encouraging all clubs and organizations that host a Go Topless Day event to reach out to the local or national military support charity of their choice, through donations and inclusion in this special event. Thus far, more than 26 charitable organizations will be receiving donations from Go Topless Day events. AllThingsJeep.com will join by hosting a card-writing table to thank troops at their East Coast Event.
Go Topless Day is a worldwide phenomenon that is reflective of the Jeep community. The grassroots event is unique among the enormous expos and often ostentatious auto industry events in that it started local and has remained local even throughout its growth. Whether it's a small group of Jeep loving friends planning a scenic ride to a local watering hole, like the Red Line Jeeps in Maine, or a multi-club event drawing thousands of participants to an area, like Crystal Beach, Texas, all are supported by AllThingsJeep.com. Most events are open to the public to grow and strengthen the local off road community and unite Jeep owners. Activities range from coastline cruises to trail clean-ups, beach parties to backyard picnics, all in the name of fun and charity.
More information about Go Topless Day can be found online at http://www.allthingsjeep.com/go-topless-day.html
###