One of our favorite features on the Wrangler is the ability to take the top off. The sun on your face, the wind in your hair, and nothing above you but open sky; ­there's nothing better. We love taking the top off so much, we even started an annual celebration over 7 years ago – Go Topless Day! Believe us when we say, topless Jeeps have more fun!
I want to go topless…but is it really okay for my Wrangler's interior to get wet?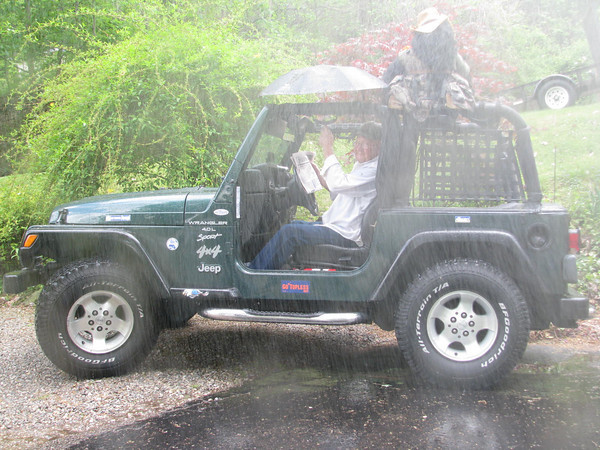 This is the question we hear most often when it comes to riding topless. In short, yes, it is okay for your Wrangler's interior to get wet if you are driving or parked topless. There are special features on the Wrangler that help make it a rough and tumble kind of vehicle. Driving topless also tends to create the "speed effect" where, unless it's really pouring, rain will simply fly off the windshield and not end up soaking your Jeep. That being said, interior electronics can obviously still get damaged by water and your interior soft goods (think seats and carpet) will soak up water just as you would expect them to. You can protect your stereo with a boat-style radio cover, but the key to interior preservation is draining, drying, and ventilation after a topless soak.
Draining
Did you know that your Wrangler has drain plugs underneath the carpet of the front and rear passengers' floor area? If you're leaving any part of your Jeep open where water can get in, you'll want to lift up the carpets and pull all of these rubber stoppers out of the floor. This will allow standing water in the tub of the Jeep to drain right out the bottom of the vehicle. The first time I forgot to do this and the clouds let loose, I jumped into my Jeep and my feet were submerged in ankle deep, dirty floor-debris and rain buildup! While the whirlpools of water swirling out of my TJ were a little bit satisfying to watch, it wasn't much fun fishing around underwater for those drain plugs.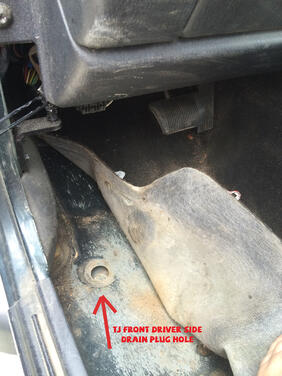 Drying
After your Jeep has gotten wet, there are a few things you can do to help it dry. For most, this is as simple as leaving the topless Jeep out in the sun the next day. For faster drying, you may want to remove portions or the entirety of your carpet – it's not difficult and the whole thing comes out. If you have seat covers and there was enough water to soak through them, you'll want to pull them off and let your seats and covers dry separately in the sun.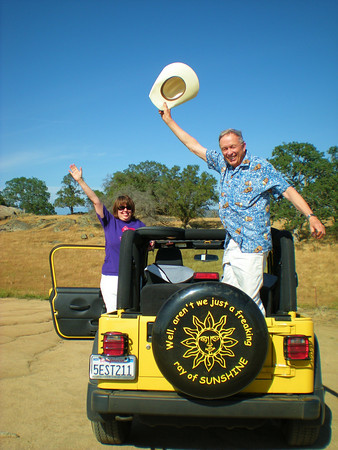 Ventilation
If your interior has gotten wet, the very last thing you want to do is seal the Jeep up. Ventilation is the name of the game! Putting your top or a completely waterproof (vs water resistant) cab or car cover on while the interior is wet will cause moisture to stay trapped inside the vehicle. Trapped moisture means your soft goods will mildew, leading to unpleasant odors. Tops and covers that seal are great for weather protection if they're installed before precipitation starts, but will only exacerbate moisture build up once the interior gets wet. Wait out the rain, let your Jeep dry, and try to get it covered before the interior gets soaked next time. Alternatively, you can rip those carpets out for good and take a weekend to DIY spray liner the tub of your Jeep. If you're not the handy type, there are professionals who can install bed liner so that you never have to worry about wet carpets again! This is also a great way to protect the interior of your Jeep from rust.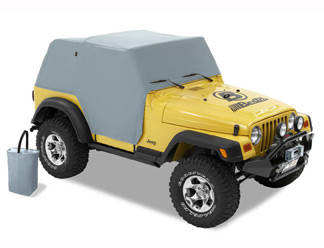 There's a variety of options from full soft tops to summer tops that will allow you to choose the amount of weather protection you're comfortable with. Eventually you will find that you either prefer to keep your interior dry and will take the necessary steps to keep it that way or you don't mind letting it get wet. You can rest assured either way knowing that it really is okay for your Wrangler to get wet inside.