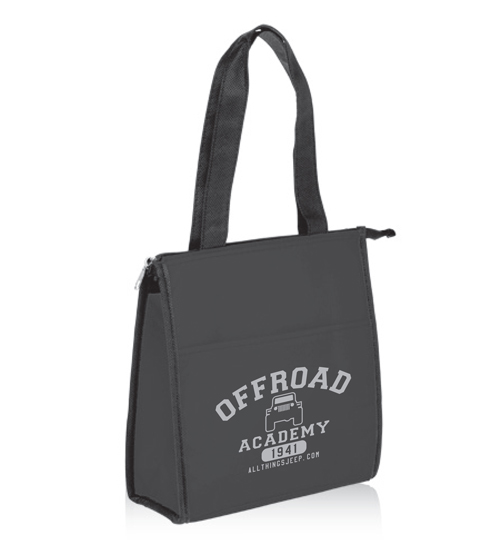 We know, times are tough all over. Gone are the days of leaving the office every day for a grand lunch out at, say, Denny's or Jack in the Box. Back are the days of brown bagging it.
This wouldn't be so bad if all your friends at work didn't mercilessly mock that re-purposed Safeway bag you use to cart around your sandwich and chips.
It's another sad fact that there is a marked shortage of lunch boxes designed to appeal to the off-road enthusiast of the Jeep persuasion. Until now, that is. Enter: the All Things Jeep lunchbag.
Sleek black, featuring a Zippered closure, a front pocket (for your spoons, napkins, small pets, etc.), foil laminate PE foam insulation (to keep your lunch at the right temperature), this is the coolest way to cart your lunch around since that plaid thing with the Thermos in it. There won't be any question that you belong to the off-road elite, as "Off-road Academy" is screen-printed on the front.
Enough talk! How do I get one of these amazing lunch bags?
Funny you should ask, if you can manage to spend $75 or more on our site, the lunch box is free. The item may otherwise be purchased for $6.99.