A customer recently asked us how All Things Jeep's Go Topless Day got started. That's a dirty little secret I never really wanted to give away but feeling nostalgic as 2017 marks the 10th anniversary of this event, I thought I'd share the story. It's a perfect example of small business bootstrap marketing! If any of you are small business owners, you will nod your head in appreciation.
Back in the early part of 2008, All Things Jeep was still a fledgling company. We were about to turn 5 years old. We had gained enough traction to just recently move into a real warehouse, in a larger office park, and outside vendors were showing up at our door regularly. The guy who wanted to sell us retirement services for our employees, the company who wanted to sell us an alarm system for the warehouse, and the local newspaper that wanted us to advertise were just a few of the people ringing our door bell.
Turns out the woman wanting to sell ad space in the local paper also did some writing for it. And she happen to be working on the Springtime section of the paper, "Happenings around Boston this Spring" which was going to be published the following week. It was April 2008. Did All Things Jeep have a springtime "Happening" for the paper? It did not. A small e-commerce company selling hats and t-shirts to Jeep enthusiasts doesn't have "happenings". But if it meant getting a write-up in the local paper for 1000s to see, well then, heck, we were going to have a happening!

The 2nd week of April 2008 we came up with the idea that Jeep owners in New England have the spring ritual of taking the top off their Jeeps and let's celebrate it as the national holiday it should be! Let's pick a day and call for a celebration and let's see if we can get free publicity for the company. Thus, Go Topless Day was born. Once the "Happening" was submitted to the paper, we had no choice but to make it happen, just in case the paper published the event! We called a local farm stand with a big parking lot and asked if we could hold an event there. We got our designer to create a logo for Go Topless Day, and we started talking it up to the local Jeep community.


The paper never published our event (I suppose the name had something to do with it), but by then, we had the t-shirts (above) and were marching forward with the event. And to incent people to show up, we said that we were going to cut the top off a Cherokee so it could go topless too!

Thus the opportunity for free publicity became local Go Topless Day. But you know Jeep enthusiasts! But they time the day arrived, it had become the First Annual International Go Topless Day for Jeeps! Our local event occurred in Lancaster, MA and about 80 Jeeps and owners showed up. Through word of mouth, we had Jeep clubs all over the world also participate. We had a photo contest and gave away cool prizes. We had some kick-ass entries! Here's a 2008 Go Topless Day write-up a blogger did.
Here's one of our all time favorite entries into our Go Topless Day Photo Contest.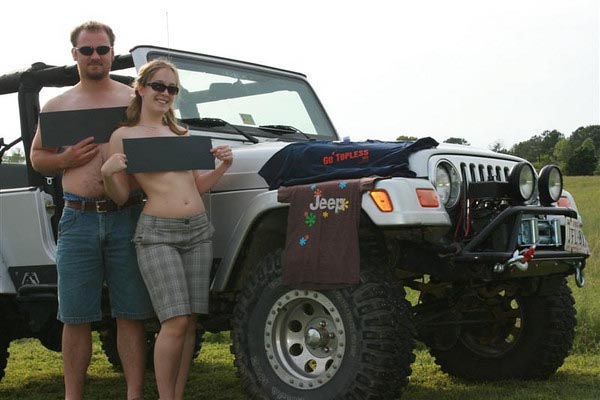 The event that was invented to get our name in a local paper has become a phenomena in the Jeep community and next spring, we celebrate the 10th Annual International Go Topless Day! We are thinking about ideas on how to celebrate a Ten Years of Topless Day! If you have suggestions, post them in the comments section. And remember, when opportunity knocks, go topless!