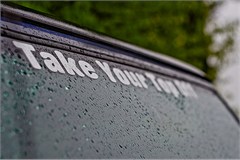 Go Topless Day is a spring tradition when we celebrate the return of warm weather and sense of fun and adventure that comes along with owning a Jeep! Go Topless Day was started by All Things Jeep's founders in 2008 after a particularly brutal New England Winter. The first event was a small meet up of Jeepers at a local farm and ice cream stand, but the event has since grown to include thousands of participants all around the world!
All Things Jeep works with off-road clubs and Jeep fans all over the globe to host events. Whether it's a small group of Jeep-loving friends planning a scenic ride to a local watering hole, like the Red Line Jeeps in Maine, or a multi-club event drawing thousands of participants to an area, like Crystal Beach, Texas, all are supported by AllThingsJeep.com. Most events are open to the public to grow and strengthen the local off road community and unite Jeep owners. Activities range from coastline cruises to trail clean-ups, beach parties to backyard picnics, all in the name of fun and charity.
As many Jeep owners will attest, removing the top from the Jeep Wrangler, or "going topless" is one of the most enjoyable aspects of ownership, especially so after months of cold weather. The annual kick-off celebration of the start of topless Jeep season is easy to join! Simply take your top off!