If you read the All Things Jeep (blog.allthingsjeep.com) blog much, (this thing here) you know that we love 4-wheeling. You also probably know that when we wheel, we like to do it with the folks at Connecticut based 4-wheel club JonFund (www.jonfund.com). We love JonFund so much, we even have a member design our popular Where's Your Playground Jeep Tees .
JonFund president, Mike from our warehouse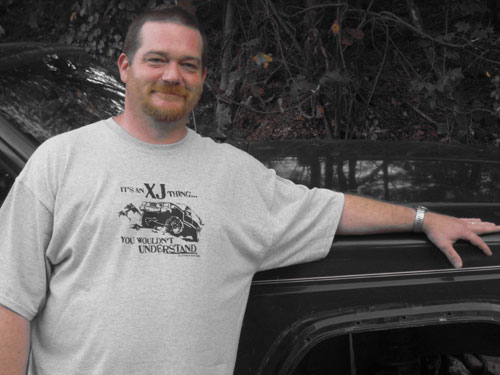 (seen here wearing his It's an XJ Thing, You wouldn't Understand Tee-Shirt)-- told me that in a survey of their club members last year, one of the three most important things about club membership was helping each other. Sure, the jokes can be merciless -- just ask about an unfortunately named sundae or what moniker a deep hand wound might get -- but when it comes down to it, the bromances in Jonfun put Affleck and Damon to shame.
Since the universe has never created an obstacle a JonFunder can resist, these guys have to be able to count on each other. Sometimes, it's to find the best line, or to get winched out of a bad spot or to make a trail repair -- sometimes it's something bigger. Starting a beautiful, sunny ride last weekend, a small handful of the group decided to try a tough rock face. Everyone was fully aware that this was an especially difficult section of trail and that the risk of damage was very real. The bulk of the group decided to save it for the end of the day, just in case. The steep face and the mud from the 6 straight weeks of rain we've seen here in Massachusetts beat most of the drivers and the group made good use of their winches. One driver looked like he was just about to make it when, instead, his tires began to slip and he rolled. Voices yelled "Hands in, hands in, hands in!!!" and everyone took off running towards the rig. Fortunately, driver, passenger and rig all escaped relatively unscathed. The other drivers in the group helped them get out safely, get their gear out and salvage the oil pouring out through the hood. Those who could checked the engine and helped get it into working shape so they could keep going. People even gave up their spare oil so these guys could keep wheeling. They were able to get through the entire rest of the day and show some good obstacles what for.

Beyond taking care of people and rigs, I'm also impressed with JonFund's attitude towards taking care of the Earth. Prior to meeting the JonFunders, I didn't understand how Tread Lightly(www.treadlightly.org) could possibly apply to wheeling. As a backpacker and kayaker, I just couldn't fathom how people driving SUVs through the woods could be good stewards of our planet. OK, maybe they were good about packing out their trash, but that's as far as it goes, right? I stand solidly corrected. In general, wheeling helps preserve natural, undeveloped spaces. If land owners can make money keeping the trees and opening space up to wheelers, they don't need to sell it off to be turned into condos and espresso bars. That certainly works with the values of this tree hugger. I've seen members stop the whole group because they saw a piece of trash off the trail and wanted to pick it up. On-trail stewardship extends far beyond packing out trash. These guys are serious about staying on the trail, respecting the plants and animals,and minimizing erosion. In the case of the rolled rig, a lot of oil still made it the the ground despite the salvage effort. It would have been so easy for the group to just drive away and leave a puddle of motor oil. Instead, they shoveled all of the oily mud into trash bags and used rags to soak it up off the rocks. There was zero evidence that oil had ever spilled in that area. I think the Lorax would have been pleased.

So, I still haven't made much progress towards acquiring my own rig, but in the meantime I'm figuring things out. Things like the importance of seat belts, spill kits and good friends.