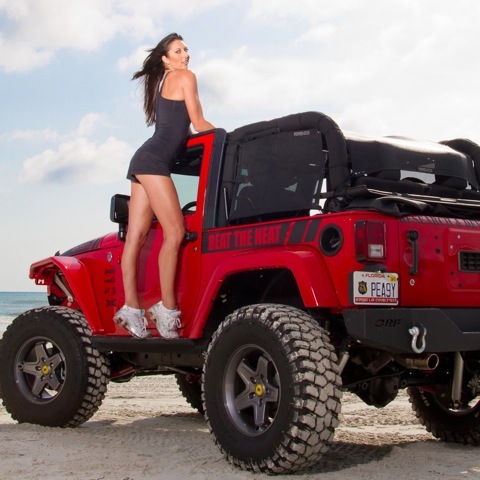 Spiderweb Jeep Girl Amanda says, "Get a SpiderWeb Top."

It's mid-Summer, and we're all driving around topless. Ah, the open air, the open view, the wind ruffling your hair ... Ah, the sunburn, the wind-blasted ears ... That's life, baby. The good goes with the bad.
Yup, too much of this good thing can make you rue the day you dropped your top, as red skin peels and the UV has its way with vulnerable interiors. Baking in the sun gets pretty old, too. And don't you wish there was just a little less wind whistling past your ears?
Sure, you're a moth to the topless flame, but what if there was a way to combine the freedom of going topless with the shade a top affords?
Enter: The SpiderWeb summer tops, which answer the Jeepster-specific Summer conundrum. The see-through mesh blocks 90% of the sun's harmful UV rays, but allows enough light in so that you still feel great and topless, not to mention see the summer sky.
Speaking of fastening, you've never attached a top that goes on as easily as the SpiderWeb Mesh tops. A system of special bungees (spider balls), included, quickly and easily strap the top on. They don't even require the installation of windshield channels.
In all it's glory: a Spiderball
Naturally, removing the top is a breeze, too.
Speaking of breeze, the SpiderWeb Mesh Top cuts down on enough wind that you can, say, speak and hear during fast Jeeping — E.g. You can hear a phone while driving 70mph.
It doesn't replace going topless, but its damn close, and when you're done jeeping, none of your so-called friends will have cause to slap you on the back and laugh as you writhe on the floor in blister-popped pain.
No matter what sort of Jeep you're in, we have a top that fits. Any doubts about how easily they are installed may be curbed by watching the lovely Amanda set up one of the two-piece SW2 models here. The Jeep guys may enjoy watching this more than the Jeep girls will.