As a generic statement, women love shoes. Not all of us, but many of us.
And if you are reading this, and female, you probably love Jeeps.
So what do you think of the idea of "Jeep shoes"? We just looked at a great line of Jeep-inspired footwear called J-41. This season it's available for women and children (sorry guys!)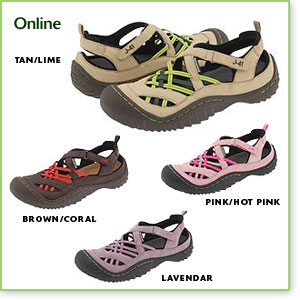 Here's a peak: http://www.j-41.com/
We are seriously considering picking these up because after seeing them in person, we were impressed (and also I've picked a few pair out I wouldn't mind owning.) Actually, I wouldn't buy them just because they are "Jeep shoes", but they are comfy, very well made and stylish. The summer sandals would look good on my feet as I swing my legs in and out of the Jeep.
Jeep Girls - please post a comment or email me and tell me what you think and which ones you like. It would be appreciated. jean @ allthingsjeep.com
Thanks. Jean