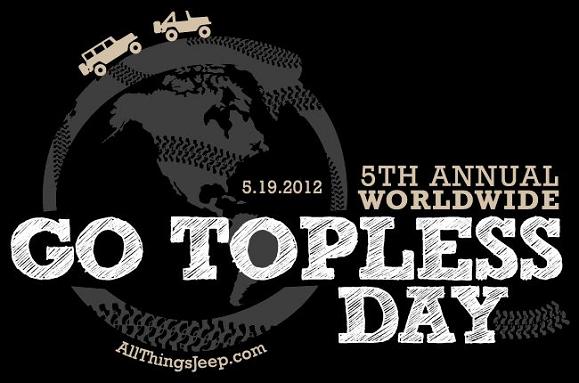 All Things Jeep announces the 5th Annual Worldwide GO TOPLESS DAY on May 19th, 2012 and Thousands of Jeep Owners Worldwide Expected to be Topless


San Jose, CA – March 16, 2012 –On May 19th, 2012, AllThingsJeep.com is sponsoring their 5th Annual Worldwide Go Topless Day and invites Jeep owners everywhere to participate. Go Topless Day is about celebrating the spirit of fun, freedom, and adventure that people love about Jeep and off-roading. What started as an idea for a local event in 2008 quickly grew to a worldwide phenomenon through the help of the Internet. Over 100 Jeep Clubs and several thousand more individuals on five continents participated in the event last year and this year's Go Topless Day is expected to double that amount. For more details, visit http://www.allthingsjeep.com/go-topless-day.html.
Go Topless Day is when Jeep owners everywhere take the tops off their Jeep, and join in parades, picnics, park clean-ups and community service with fellow Jeep lovers. Last year's Go Topless Day was the largest coordinated event among Jeep owners to ever exist. A complete photo album can be found at http://www.allthingsjeep.com/go-topless-day.html. Sign up to participate either individually or as part of a group and AllThingsJeep.com will send you materials to launch your event.
About All Things Jeep All Things Jeep runs www.allthingsjeep.com and is one of the largest providers of gifts, apparel and memorabilia to the Jeep® and off-road market. All Things Jeep delights Jeep® owners with items that enhance their adventurous lifestyles. Visit www.allthingsjeep.com for the perfect gift for Jeep® lovers including Jeep memorabilia, clothing, decals, tire covers, watches, jewelry, seat covers and more.