Quick lesson in summer tops for your Jeep 1995-2006. (Lesson one is for those new to the idea. It's basic. Lesson two is for all Wrangler 95-06 owners.)
Lesson 1. You need attachment points up front to hold a summertime-type top in place. Whether it's Bestop Bikini Top or a Rampage "Summer Brief" or "Island Topper", or another vendor's top, you need anchor points up front for the top. So you need a windshield channel. With older Jeeps, you end up having to drill these metal strips into the frame of your Jeep above your windshield. (You have an old Jeep, who cares if there's a few more holes in it!) For the medium-aged Jeeps, you often can choose between a drill-in windshield channel or a "header" windshield channel. The Header version "clamps" onto your frame so you don't have to drill any holes. It's bigger and bulkier because of the hardware used to hold your top in place, and more expensive. For the newest Jeeps, manufacturers just produceheader style channels. Guess they figure you don't want to go drilling any holes in your new Jeep.
But when you want to move back to your softop or hardtop, the windshield channel needs to be removed, which takes a few minutes (and longer in the rain) and stored and it just takes more time than I ever want to give it.
Lesson 2. If you are a lucky owner of a 85-06 Wrangler, you can run with a summer top and leave the windshield channels behind with this awesome product we just came across --- the SpiderWeb ShadeTop for Jeep Wrangler YJs, TJs, LJs, 1995-2006 Check out the attachment points - bungee-style connectors. No more windshield channel needed. We think this is a Very Clever Idea.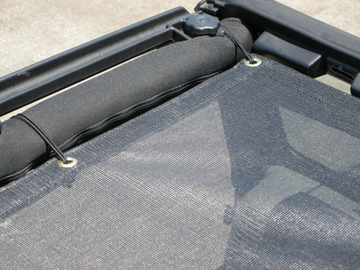 And it looks pretty darn cool too.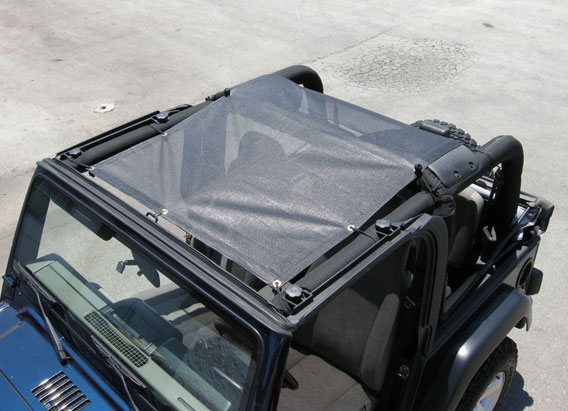 But the thing I like best about the Shadetop is this. If no one's in the backseat, you can drop the back of the top down to create a windbarrier. Cuts the wind and the noise from the wind. Makes for much quieter cabin.
This baby also can sit under any other top you want to put on your Jeep. So you don't have to deal with removing it every time. I like that. A lot.