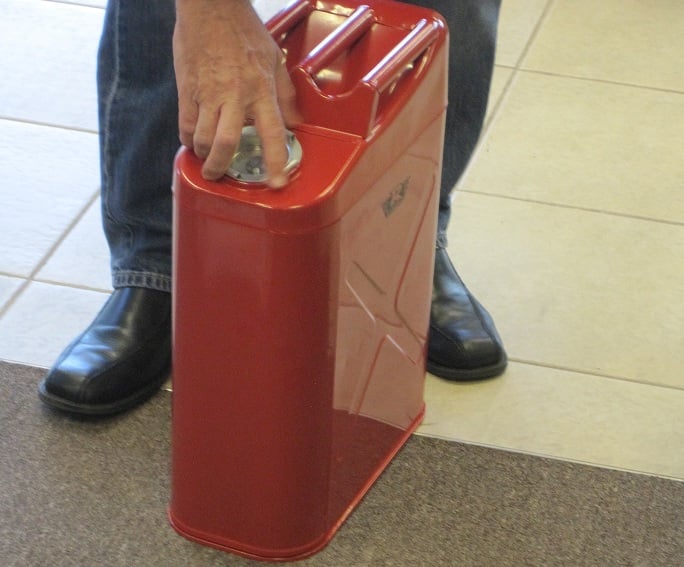 What do you suppose the red object in the picture is? I know what you're thinking: Gascan. A good guess, but wrong. You've fallen for the ruse, dear Jeeper, for what appears to be a traditional five-gallon Jerry Can is actually a storage box in disguise — and what a storage box it is. Ideal for tools, there are more drawers and hinges than you could ever figure out what to do with, it locks tight and it even plops into the place your Jerry Can used to go before it became illegal.
This ingenious little Transformer was the star of the show when Dave Williams, of Rampage, brought a bag full of toys over for a visit to the California office of All Things Jeep. It locks too.
Dave showed off several other Rampage products as well.
Highlights:
Tops
Sad, but true: You need a top for your Jeep if you're going to drive it out any time other than, say, Summer, or select days in Spring. Their frameless top, as Dave put it, won't cost a fortune and will keep you safe from the elements.
The top is cool because it doesn't need any additional bows or support hardware, which then makes it even cooler by allowing for larger windows that minimize the threat of the ever-pesky soft-top blind spot. It installs snugly over the factory roll bar. Windows attach to the sides by way of heavy-toothed zippers, and may be removed and stashed in a pouch contained in the top itself.
It also has the distinction of being, essentially, two tops in one. When you need full enclosure, you can have it, but you can also convert to a Safari top. Good fun.
A word of warning, straight from Dave: These windows, transparent and sturdy thought they are starting out, can be discolored over time, if you use brushless car washes. The PH level of the soap involved is apparently off-the-charts acidic. So if you want clear windows, just say no to brushless car washes.
Guess what you're gonna need to make this click onto El Jeep? Quick hint: Rhymes with windshield channel.
Windshield Channels
If you're going to put a top on your jeep, you're going to need one — unless, of course, it's a YJ, in which case you're in luck and can use the factory channel.
The Rampage header channel is actually something of a picnic to adhere to the ol' Jeep. You need not drill, nor even have any tools, it just sort of clamps into place and you tighten the handles.
Double-bladed Windshield Wipers
Yes, you love getting dirty, but your windshield wipers would tell a different story if they could, y'know, talk. They'd probably complain about all the hard work they have to do while you're stomping in mud puddles. Time to put those whiny old things to rest and pick up a set of double-bladed windshield wipers. The patented Double-Blade Technology causes these babies to wipe and scrub simultaneously, a double-action wiper blade.
Each assembly includes the dual blade, frame and universal adapters so you can snap it onto your Jeep no matter what. A pretty cool invention, you ask us. We all like getting dirty, but we still like to see where we're going, right?
Hood Locks
No one likes to return to the parked JK to discover that some dip has helped himself to a free battery. The most obvious reason to have a hood lock is to prevent this. It's also nice, though, that they cut down on the flutter that occurs when you start to pick up speed. The one Dave showed us was die cast, not stamped, metal, which is a plus when you consider how much you'll probably beat it up, the latch being the only protection the stuff under your hood has from the outside world.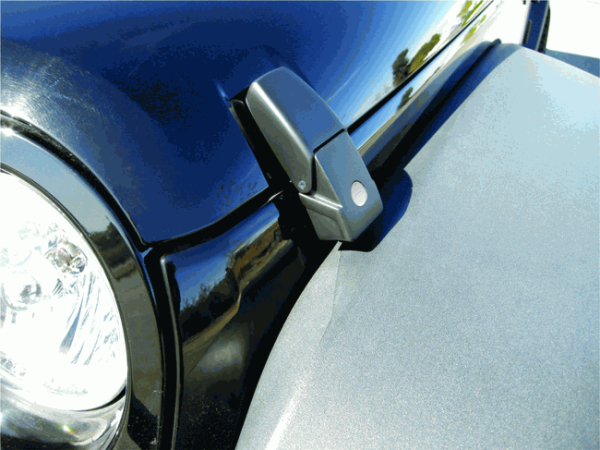 Headlight Guards
These headlight guards snap in place. Isn't that cool? After all, in Dave's own words, "Usually, you have to knock the damn grille off." And who wants to go around knocking the damn grille off?
Other stuff
Generally, we had a blast scoping out all the cool Jeep stuff from Dave's bag of tricks. Pizza and a good time was had by all. Party down with Dave Williams if you see him walking down the street. Just don't ask him to navigate out of the wacky maze that is San Jose Mineta airport.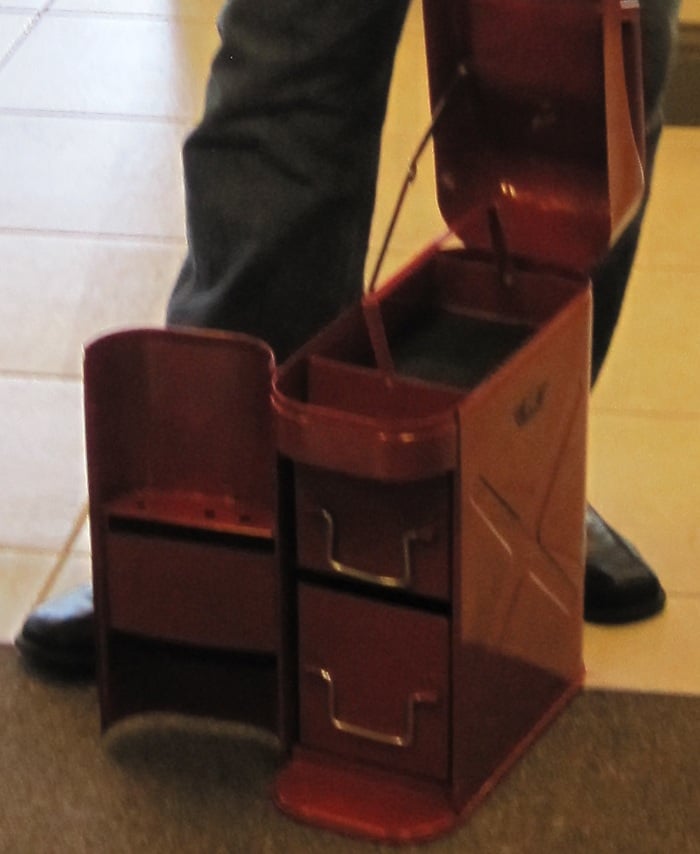 See? It opens.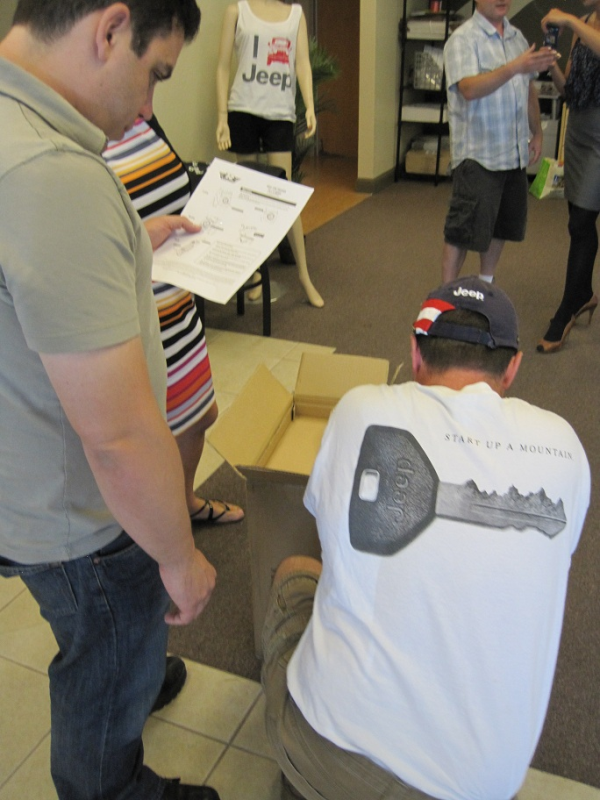 "Shouldn't have taken that left at Albuquerque." The All Things Jeep engineers decode the Jerry Can Tool Box.