I don't have a Jeep mom but I am now a Jeep Mom, and I just have to say, we are the best. Kinda adventurous, kinda spontaneous and always up for taking the top down and going out for an ice cream cone. Because in my book, topless Jeeps are made for rocks and cones. (Hey, there's t-shirt idea waiting to happen!)
So, since Mother's Day IS coming up, we put together a little Mother's Day Free Gift Program for Jeep Moms at www.allthingsjeep.com
Simply spend $60 on goodies for yourself, and pick out a gift for your Mom (or girlfriend, or daughter or yourself) for free. Choose from one of the following cute Jeep girl gifts. I chose them myself as some of my personal favorites so if the Jeep girl or mom in your life has my taste, you are golden!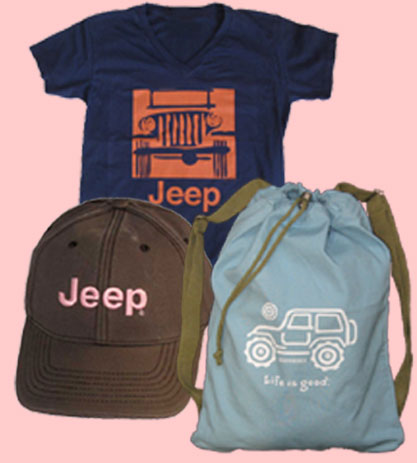 Hope you like them. Hope you have a great upcoming Mother's Day.
And I'm be mad at myself if I didn't put in a plug for Go Topless Day. It's becoming huge. I think it may be the largest worldwide event for Jeep owners ever to exist. All ya gotta do to play is spend Saturday May 3rd outside in the Jeep with the top down (or windows unrolled if you are in a Liberty, Cherokee, etc.) and then send us a photo. See our Go Topless info here. I'm very excited. If you are reading this, please tell your Jeep friends about it. Thank you.