Two weeks ago we got an email:
"Hello ALL Things Jeep!

I am the proud owner of a 14 year old ZJ. He is clearly eligible for
turn-in under Cash for Clunkers, and would be worth an extra $2500-$3000 to me if I turned him in. But I would never DREAM of allowing him to meet that fate!! I know there are other Jeepers out there just like me who are keeping their Jeeps because of the emotional attachment that others "don't understand". Can you think of a neat bumper sticker that explains that? "I survived Cash for Clunkers" comes to mind, but it seems like it would be
cool to come up with something more Jeep specific. Maybe, "I survived Cash for Clunkers, Obama wouldn't understand." With a Jeep grill! You get the idea. I hope you can figure something out and it turns into a best seller for you! - Shannon"
Shannon, we thought this was a brilliant idea. And here it is: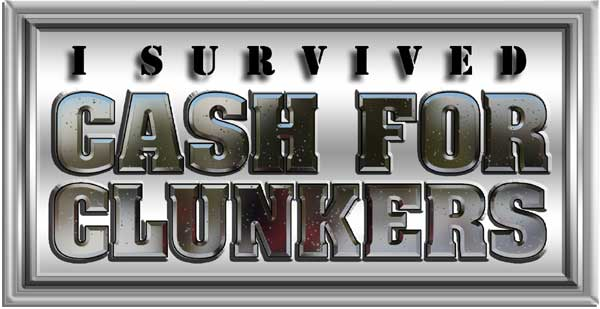 I Survived Cash for Clunkers Decal. This decal is available exclusively at www.allthingsjeep.com. It's made for all those proud, dedicated Jeep owners out there that said "No Way!"
This 3" x 5" sticker will look great on the side of your Jeep, right above that rusty wheel well. Or on the rear windshield, worn with pride. In any case, Thanks Shannon, for a great idea. Your freebies are on their way.