Meet Brian from Colorado Springs, CO. Only in a Jeep can you almost be arrested for driving too slow. Just ask him.
1. What are you currently driving? model? year? color? etc.A: 2002 Jeep TJ Sport Patriot Blue and a 2006 Jeep Commander Steel Blue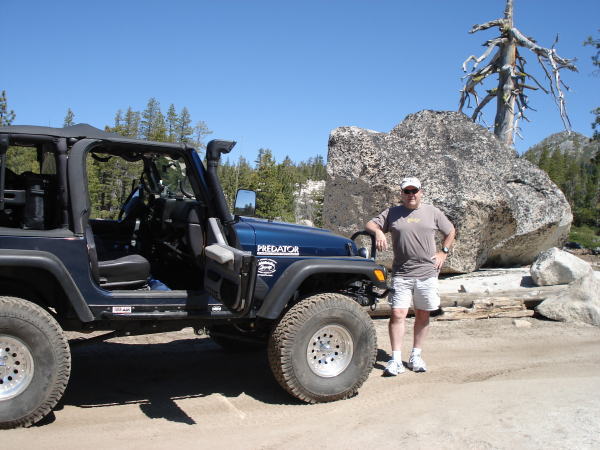 2. Tell us your favorite modification you have made to your current Jeep.
A: Teraflex LCG Suspension lift
3. When dd you get your first Jeep and why did you chose a Jeep?
A: I bought my TJ new in 2002, but I have owned seven Jeeps over the years including the two I own now. I love being out doors, taking the road less traveled and have wheeled my Jeep all over the country Rubicon, Moab, Superlift in Hot Springs, Tellico, TN and Paragon and Rausch Creek, PA. Not to mention exploring logging trails in Maine, the red rock canyons of Utah and the Rockies here in Colorado and other numerous trips from coast to coast.

4. Where's the most interesting place you've had your Jeep?
A: Not sure, our 4,000 miles trip last Summer from Colorado Springs accross the Rockies and up to Grand Tetons and Yellowstone NP in Wyoming, over into Idaho and up to Glacier, NP and then accross Montana to Little Big Horn and then following the Pioneer Trail back was pretty cool, but so was the trip we took in 2004 into the back country of New Mexixo, Arizona and Utah which ended with four days of wheeling in Moab.

5. What is the most interesting thing you've DONE in your Jeep?
A: Maybe rescueing another Jeep off the side of a mountains at 12,000'+ elevation in the middle of a snow storm on an ice covered trail that led from Buena Vista to Tin Cup here in Colorado.

6. Ever get arrested while in the Jeep? For what?
A: No, but I did get stopped and received a warning for driving to slow on I-40 out side Tulsa, Oklahoma a few years ago.
7. What music do you listen to while driving the Jeep?
A. Country or COntemporary Christian (XM Channel 16 or 33)
8. How many Jeeps have you had in your lifetime?
Seven, '78 Grand Wagoneer, '88 Cherokee, '94 Grand Cherokee, '98 Grand Cherokee, '02 Wrangler, '04 Liberty and an '06 Commander

9. If you could win any Jeep, past or present, what Jeep would you want to win?
A: 2004 - 2006 Wrangler TJ Unlimited Rubicon

10 Does your Jeep have a name? What is it? If it doesn't have a name and you had to name it, what would you call it?
A: No it does not have a name.

11. If it doesn't have a name and you had to name it, what would you call it?
A: I have never thought of naming it, but it is a Jeep, not an SUV and I correct people all the time who try to call it anything but a Jeep.

12. Is it a boy or a girl?
A: I would think it would be a boy but I have thought of my other Jeeps as girls.

13. Tell us about any stickers or custom work you have on your Jeep?
A: Currently I have stickers from Moab, Superlift and the Rubicon Trail as well a hood decal from Predator 4WD here in Colorado Springs where most of my mechanical work has been done and the others reflect my Military Service. As for modifications: beginning at the front end I have a Wonk custom front stinger/winch bumper with a Warn 9,000lb winch, Hella driving lights, Banks header, ARB snorkel, Kargo Master Congo Cage with Safari Basket, I swapped another guy my hard doors for his half doors with factory soft upper and Bestop upper sliders, an ORB roll bar, CB radio, XM Radio, Garmin GPS, numerous grab handles, fire extinguisher, saddle bags on the rear roll bar, Warn rear bumper tire carrier with two 5-gal Jerry Cans, Hi-Lift jack and a Wilderness receiver rack. Underneath I have ARB Air Lockers front and rear with 4:56 gears, Teralow 4:1 transfer case, SYE, custom rear drive shaft, Teraflex CRD50 high pinion rear axle with rear disc brakes, Teraflex Low Center of Gravity 5" lift running 35"x12.50"x15" BFG AT/KOs for day to day use on alloy rims and I have a set of 35"x12.50" Interco Trxus M/Ts on 15" steel rims for serious off road travel. I also have an aftermarket air conditioning system a custom exhaust so the lift kit would fit and use a Hypertech programer to get a little more out of the engine here in Colorado. In the summer time I run a Bestop Safarai Bikini, Duster and WIndjammer. Prior to my current set up I had a Teraflex 3" long arm lift and ran 33"x12.50"x15" Pro Comp M/T.

14. What's the most unique thing about your Jeep?
A: Maybe that I drive it every where, it is built to go any where so I never trailer it.

15. If you are a member of a local Jeep or off-road club, put a shout out to the club here:
A: No, I am a member of an online group called Ultimate Jeep (www.ultimatejeep.org) and we get together as a group several times per year at various off road venues around the country and I try to make at least one event if I can.

16. If you were a Super Hero and your Jeep had extradinary powers, what would it do?
A: Blow up the cell phones being used by idiot driver who don't know what a hands free, blue tooth are for or that it is illegal and just plain stupid to drive while talking on the phone. Other than that, my Jeep does just about every thing and any thing I have asked it to.
17. If you could chose one new gift for your next birthday, would it be:
- a new 2009 4 door Jeep Wrangler Rubicon
- a fully restored, 1941 Jeep Willys
- world peace
- a million dollar gift certificate to www.allthingsjeep.com
A: Tough one, as a Soldier I would love it if we had World Peace, but I think I would have to say the 1941 fully restored Jeep Willys would be too cool to pass up.

18. What are your 3 favorite products available for sale at
www.allthingsjeep.com ( http://www.allthingsjeep.com/ )?
A: I don't know, there are a lot of Jeep owners in my family so I like that I can find Jeep gifts on the site that don't bust the budget to buy.
The photo is from my trip on the Rubicon in June.

Thanks BRIAN O.