Today we are starting a new thing here. It's called our
All Things Jeep Customer of the Week.
(Insert round of applause here.)
We have some of the best customers in the world so we thought we'd feature you here! Today, we are pleased to feature our friend DUNCAN M from Manitoba, Canada. Duncan's been a customer for many years and he's the President (I think) of his local Jeep club.
Here's his answers to some of the questions we asked Duncan.
1. What are you currently driving? model? year? color? etc.

2005 TJ Rubicon, Khaki & Dark Khaki, semi militarised.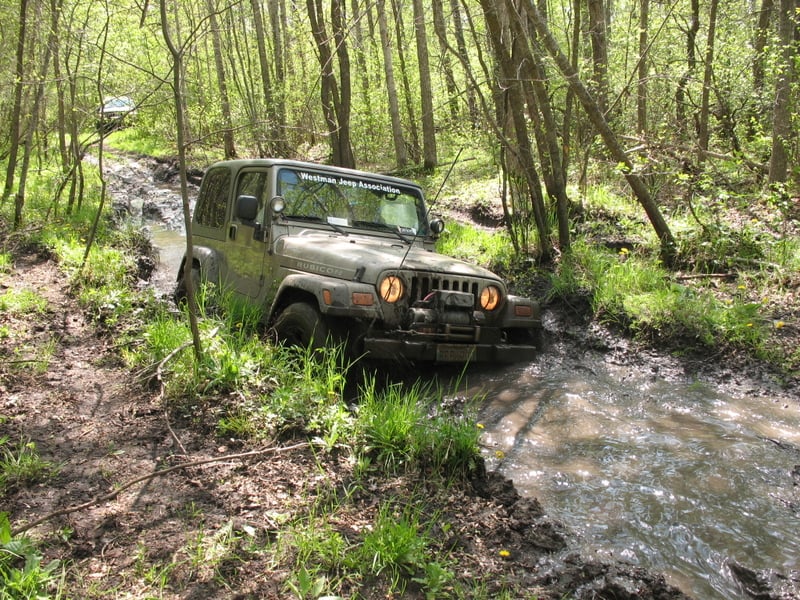 2. Tell us your favorite modication you have made to your current Jeep.

My home made camo net bikini top.

3. When did you get your first Jeep and why did you choose a Jeep?

I got my first Jeep, an 82 SJ Wagoneer, in 1991. It served me well for 10 years before I sold it due to operating costs. It was 19 years old and starting to require parts that just weren't available anymore. It was a good Jeep with a 360 V8 but whose time had come to move on with someone else at the wheel. During this time I also owned a 55 Willys CJ5. It never saw trails as it needed clutch work and I never had time to complete it. It was all stock and excellent condition. It ran like a top and I was sad to see it go when I had to leave it behind during a cross country move. I chose my wagoneer because it was within my budget and I had had a dream about it the week previous. It was weird actually, I dreampt about a white woody sided wagoneer and then the following week while looking for a replacement 4wd found exactly that sitting at the back of a used car lot with a sale price on it. I got another $1000 knocked off and it was mine. It was my DD and mild trail rig for the next 10 years. I have been a Jeep guy since I was 7 years old when I saw my first Jeeps in a Rememberance day parade. That image of a convoy of army Jeeps has always stuck with me and to this day I still want to eventually own an old army Jeep.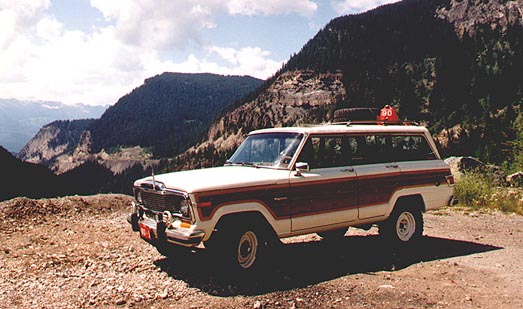 4. Where's the most interesting place you've had your Jeep?

The most interesting place I have been with a Jeep is along the old Kettle Valley Railway line in the Okanagan district of British Columbia Canada. The scenic beauty along this old rail line, often along the edge of the mountains and through tunnels, is just amazing. If I could, I would do nothing but travel around with my Jeep exploring wherever I went. Opportunities are endless with a Jeep.

5. What is the most interesting thing you've DONE in your Jeep?

Created our 2 1/2 year old girl whos initials represent the model whe was concieved in - KJ (Liberty). Yeah, we also had an 04 Libby until July 08. It was great, but well, umm, family comfort took precedence on that one and the wife traded it in. I wish we still had it. The mini van sucks!!!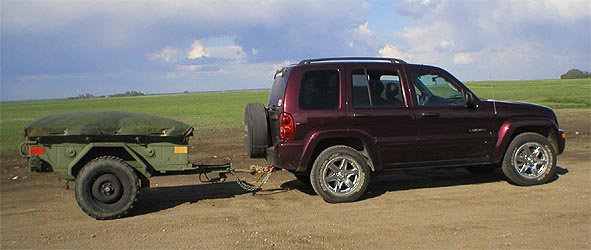 6. Ever get arrested while in the Jeep? For what?

Never been arested. What do you think I am anyway? LMAO

7. What music do you listen to while driving the Jeep?

Whatever is on the radio, generally I like rock, but only on the highway. I don't like music when trail driving, it is distracting and I like to hear what is going on around me.

8. How many Jeeps have you had in your lifetime?

Four... 82 SJ Wagoneer, 55 Willys CJ5, 04 KJ Liberty, 05 TJ Rubicon- current.

9. If you could win any Jeep, past or present, what Jeep would you want to win?

Hmm, I can't answer that in a singular choice. I would like one of each from 1941 to present. But If I had to narrow it down, I would be happy with any or all of the following: 1941 Willys MB, 1948 CJ2A in Harvest Tan, 1951 Willys pick up, 1953 M38A1CDN, 1965 Tuxedo Park CJ5, and/or a 1982 Scrambler.

10 Does your Jeep have a name? What is it?

Not really, maybe someday. It would have to be something that suited it somehow. A name needs a reason to be, IMO.

11. If it doesn't have a name and you had to name it, what would you call it?

I always thought Lunatic Fringe (from the Red Rider song), or Suzy Q (from CCR song), or perhaps Prairie Prowler. I don't know really.

12. Is it a boy or a girl?

It's a Jeep silly. I've never referred to it either way... just as 'The Rubicon'.

13. Tell us about any stickers or custom work you have on your Jeep?

Club sticker on the back window, Club name on front windshield, Canadian Flag on the back window and winch fairlead plate. The few manufacturer stickers I have are all on the inside of the tailgate. The only custom work is my home made rear reciever hitch bumper. Works great for hauling my M101CDN 1/4 ton military trailer.

14. What's the most unique thing about your Jeep?

It is the only one in my town!!!

15. If you are a member of a local Jeep or off-road club, give a shout out to the club here:

Westman Jeep Association, Southwestern Manitoba, Canada. All Jeep, All the time! http://www.westmanjeep.com/

16. If you were a Super Hero and your Jeep had extradinary powers, what would those powers be?

It would do double duty as a boat, it would fly better than Chitty Chitty Bang Bang, and would run snow like a Bombardier snow machine.

17. If you could chose one new gift for your next birthday, would it be:

- a fully restored, 1941 Jeep Willys,

18. What are your 3 favorite products available for sale at www.allthingsjeep.com?

Jeep Hats, Jeep Shirts, Cool Jeep stuff. ;)
Thanks Duncan!