My daily driver is a 2007 4 door Jeep Wrangler JK and I've looked at a LOT of JK products over the last year. Because of the popularity of the new Jeeps, vendors are coming out with new product right and left. There's a lot of "Bling" but I prefer function. So for all the new Jeep owners who are driving their first Jeep with the JKs, I thought I'd put together my list of suggested products for the 2-door and 4-door Jeep Wranglers 07-08. It's a small list, but personally, these were the first accessories I purchased (alright, I actually swiped them out of inventory) and use regularly. When the question arises, "What accessories do I need first?", my answer is these ones. (I've posted links to the 4-door version of these products, but there are also 2-door versions available.)
Here is my list of 3 FUNCTIONAL JEEP WRANGLER JK ACCESSORIES for daily drivers. I love them all.
1. The Jeep Wrangler Cloverpatch Window Roll - There's one for the 2 door and one for the 4 door and one for all Wranglers that came before the JKs. This product is indispensible. I can take my windows out of the softop, roll them in this simple bag (with felt pieces sandwiching the windows) and store them compactly and well protected. This allows two things. First, when it gets cold, or starts to rain, my windows are with me and can be re-inserted. Second, the kids, dog and assorted other stuff fit alongside the WindowRoll. Everything fits! Bob at Cloverpatch invented a good product with this one. Thanks Bob. ($78.99 and worth it!)
(the windows are in that little bag on top of the softop in the photo below)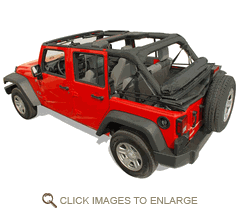 2. You may have heard - kids and dog. This means that the inside of my Jeep gets wrecked quickly. So I got a set of Jeep Wrangler JK Neoprene Seat Covers right from the get-go. They look good. They are waterproof so my cushioned seats stay dry and they can be cleaned. I try and just vacuum them and not deal with taking them on and off. But after a particular wet-dog-fur-filled weekend I tossed them in the wash and they came out like new. (I got solid black to hide as much black dog fur as possible.) These will set you back $300 for a whole set but I think they are worth it. And these ones come with a Lifetime Warranty so seriously, the company will replace them if you any problems with them.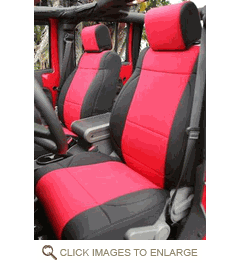 3. Ready to Go Topless? Then you need a summer top to keep the sun from turning you beet red. It's great to ride in an open air Jeep but I prefer not getting burned along the way. So I like the Rampage Products Combo Brief/Topper with Pocket for Wrangler JK 07/08 4 Door Unlimited
($59.99 for Mesh. $99 for Solid Black) OK, here's the scoop on this product. First, the price is fantastic compared to other vendor's products. Second, it zips across the middle of it (kinda like those cargo pants that were popular with kids a few years back). Zipped up, it is a full-length top, covering the front and back seats. Unzipped, it covers the front seats only. Third, (I love this one), there's built-in mesh zippered pockets in the two front corners. They are decent size, too, fitting your camera, cell phone, water bottle, wallet, small windbreaker, maps, etc. So you and your passenger can easily grab these items when you need them and they won't be flying around the backseat. Let's face it, Jeeps aren't known for built-in storage!
I'm in the process of "evaluating" two other product lines which are, again, functional. I'm looking at netting solutions for the cargo area so Sierra (aformentioned black lab pup) can hang back there and not jump out. We carry a line of Jeep Nets from Raingler which are super rugged and great for the trail. I don't know that I need something as performance-driven as these so I am looking for alternatives and will report back. (But if you want the best out there, check these out.)
Also want to get myself a car cover so when the top is down and I'm leaving the Jeep outside overnight, I can throw a simple cloth cover on the cab area to keep out the pollen, dew (and spiders.) We have a few vendors. I'm going to see which one I like and let you know.