Happy pretty much summer! What a fantastic Memorial Day weekend it was here in sunny and warm Massachusetts. The top was down all weekend.
Last week we got a very large order from Brazil that included lots of kids stuff and lots of duffel bags. It was big enough that it made me wonder whether this customer was going to resell these items somewhere, or whether it was legit., so we inquired by writing this note,
"Thank you for your order. What are you doing with all of this stuff. Are you a giant Jeep fanatic who travels and has Jeep kids or are you reselling it? We are curious. - Jean"
And we got back the most amazing reply. No matter how many times I talk to a other Jeep enthusiasts, I continue to be overwhelmed by how passionate everyone is about our sport. Jefferson, I hope you don't mind that I posted your email. It was just too good to keep to myself.
Jefferson's reply:
"Jean,
I have been a fanatic Jeep collector, traveler and driver since I was one year old. My father had one military CJ5 and he worked in the brasilian country side, near Pantanal and Amazon. Of course, when I was not at school, I was in my father´s jeep.
From 1980 and 1988, my family crossed the Amazon Rain Forest and the Pantanal at least 15 times.
In 1988, I was 13 years old and my brother was 7 years old, my family (father, mother, brother and me) traveled from Sao Paulo-Brazil to Toronto-Canadá, crossing Argentina, Chile, Equador, Peru, Colombia, Panamá, Central America, Mexico, USA and Canadá. About 73 days.
After that, we started to spent our weekends in the mud.
When I completed 18 years old, I bought my first car??? A JEEP of course.
Then I started to date my wife, and after more 8 long travels visiting places like Patagonia, Africa (Kenia, South Africa, Botsuana), Alaska (from Anchorage to Vancouver) and Amazonia and Pantanal again, my son has just been born (15 days).
That is a small part of my history.
I am a JEEP lover.
Thank you again and sorry about the english mistakes. My natural language is portuguese.
Jefferson"
I can guarantee Jefferson that a lot of people reading this email are VERY JEALOUS! For a peek at Jefferson's Jeep in San Paulo, Brazil, and his new son, click the photo below and you'll be taken to our All Things Jeep Photo Album.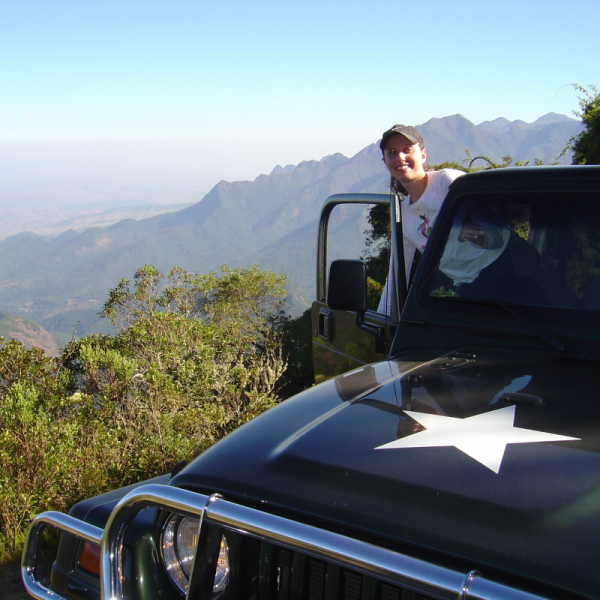 http://photos.allthingsjeep.com/