Calling all customers and readers of our blog. We need your opinion on a new line of products we've been asked to introduce to the world. We have our thoughts - from very cool to downright silly (we'll let you guess which items are which) but tell us what do YOU think of these following potential products. If you love them, we'll be selling them by late spring. But you need to tell us!
1. JEEP BEACH TOWELS. You've been asking for these for years. Here are some DRAFT ideas of a design that would go on a big, fluffy beach towel. Lay this baby down in the sand and attract that cute Jeep boy / girl across the way. (no body damage on that left headlight in the final product)
2. Jeep terrycloth Cinch Sack - perfect size for your blanket and sunscreen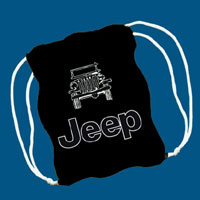 3. Jeep Short Wrap - it's a perfectly sized towel, with a velcroed waist so you can almost Jeep naked, (or at least go topless!) For guys to throw on before heading up to the snack stand for food.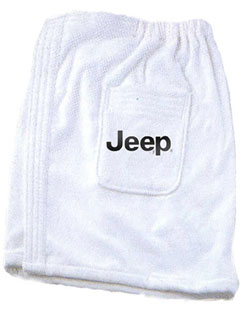 4. Longer Jeep Towel Wrap - that's us, hitting the beaches in between packing all your orders. With a matching set, a happy Jeep couple could look REALLY COOL on the beach this summer!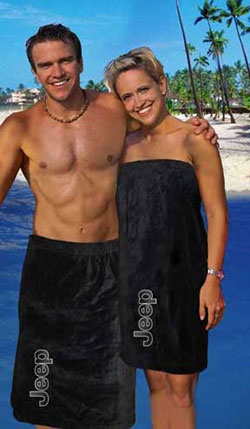 So, seriously, tell us what you think.