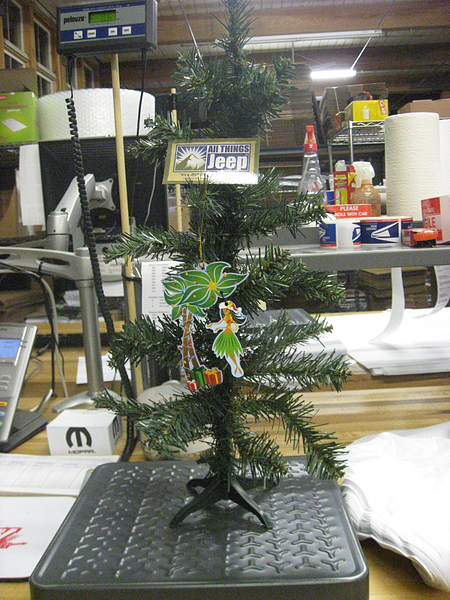 Walk into any bricks and morter retail store this time of year and you can' t miss that it's the Christmas season. Trees, lights, wreaths, stockings, candy canes and so on. But walk into our warehouse and what do you see? Just this ugly little plastic tree with a single ornament on it. It's sad, really. We're too busy to decorate and too exhausted to care. But then what shows up in the mail this past week but a package from our Secret Santa Mike down in lovely Hawaii. And he sent us an ornament. It's a happy, warm looking Hawaiin beauty hula-ing herself happy because there's presents. Mike is one of our absolute best customers and we love him for sending this ornament to us. He buys a lot from us (we like that) and he sends care packages full of Hawaiin goodies for all the tired little All Things Jeep elves. There's one thing we don't like about him, however. He's never sent us airline tickets. ;(
So maybe there's some other loving, giving, All Things Jeep customers that would want to send us an ornament to help us decorate our Christmas tree? It could even be a pizza-stained folded napkin with a snowman drawn on it with the crayons that they give the kids at the chain restaurants (the ones where all your kids ever eat is chicken fingers and french fries.) OR, a hand painted clay model of one of our Jeeps (96 XJ, 83 CJ, 07 JK, 89 Comanche) complete with the 7 slot grille.
Either way, we'd love to proudly display any ornament made by a customer.
(I suggested that I try this tactic to help us get more in the holiday spirit here, and everyone laughed at me.) But, like Charlie Brown, I have faith.
Send anything to:
All Things Jeep
Ornaments for Charlie Brown Tree
Two Shaker Road, Unit F101
Shirley, MA 01464