Thsi week we talk with Derek M., from Needham, MA. So here are Derek's answers to our questions.
1. What are you currently driving? model? year? color? etc.
1997 Wrangler Black I6, 35 inch tires, 8 inches of lift, soft top, extra lights, the whole deal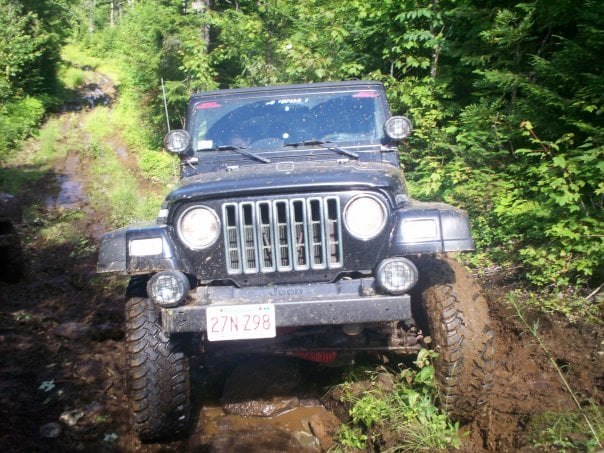 2. Tell us your favorite modication you have made to your current Jeep.
Hmmm thats a tough one, the most comfortable one is the seat covers, the best offroad is the tires, and the coolest looking is the lift. But overall my favorite mod would have to be my flag, it just makes my Jeep mine. I made two flag poles that come off of the rear body mounts above the bumper and they hold a Coast Guard and American Flag.
3. When dd you get your first Jeep and why did you choose a Jeep?
I got my first Jeep when I was 13. It was a 1955 CJ5. I chose it because I was looking for trucks to restore. I came across the Jeep and never looked at another truck. When I finally went to see it the sound of the F-head with no exhaust system just made me shudder (in a good way) and smile. From then on it has been nothing but Jeeps!!
4. Where's the most interesting place you've had your Jeep?
Stuck between a rock and a hard place......literally!!!!

5. What is the most interesting thing you've DONE in your Jeep?
To keep it family friendly I'll say going offroading and having the two front tires in the air. It was quite a little physics experiment!!! I had the front left in the air and the right was up against a rock, so i gave it some gas and the right jumped up over the rock :-O
6. Ever get arrested while in the Jeep? For what?
Nope, but I'm worried every-time I drive my 1955 Willy's out on the highway for a mile to get to the trail without brake lights, head lights, a windshield, doors, mirrors, a top, an exhaust, etc.


7. What music do you listen to while driving the Jeep?
A mix of country and Rock from the 80's thump out of my 6 speakers and 12" sub. My favorite songs in the Jeep would have to be Hillbilly Deluxe by Brooks and Dunn, Good Time by Alan Jackson, The Last Rebel by Lynyrd Skynyrd, Open Invitation by Santana, and lastly Hells Bells by AC/DC.


8. How many Jeeps have you had in your lifetime?
I have had two in my lifetime, but thats pretty good since I am only 18.
9. If you could win any Jeep, past or present, what Jeep would you want to win?
I would want a CJ3B with a V8 Hemi, lifted 10" on 39's, with coils instead of springs, a sound system, soft top, Rockwell Axles, lockers, Atlas 2, Racing seats, and tons of other fun stuff. (add in about 10 sway bars just for good measure too :-O )
10 Does your Jeep have a name? What is it?
My friends call it "the beast", I prefer to call it my baby however. I guess we have different views of it! As long as they don't call it a car Im fine with what they want to call it!


11. If it doesn't have a name and you had to name it, what would you call it?
hmm If I could choose a name that everyone would call it I would say "the Moody Machine" as my last name is Moody and it doesn't always do or work the way I want.


12. Is it a boy or a girl?
It is a girl which doesn't make my girlfriend happy but my Jeep is definitely my baby, even if it is relegated to #2.


13. Tell us about any stickers or custom work you have on your Jeep?
I have numerous bumper stickers on the back and the dash and the roll bar, I have my Go Topless Day sticker on the roll bar so I don't get any sarcastic comments about when I have my top on so it is only visible with the top off. Then on the dash I have a I like it on the rocks sticker. I figured that on the back may draw even more attention from cops when driving home on friday nights. Then on the back I have a "you can follow me but its gonna hurt,"
"H2 Recovery Vehicle" "Paved Roads....Another Example of Useless Gov't Spending" "If You can Read this Im not dirty enough" "Where's Your Playground" "Cape Cod Jeep Club" "Tread Lightly" then on my windshield I have two "Aint Skeerd" stickers and a big Go Topless sticker in the middle. I have a custom sound system and exhuast system (dual exhaust), home made side steps/rocker guards as well as lift and tires and many other small things.
14. What's the most unique thing about your Jeep?
The most unique thing about my Jeep is the dual exhaust, I have not seen many Jeeps with a dual Exhaust.


15. If you are a member of a local Jeep or off-road club, give a shout out to the club here:
Cape Cod Jeep Club is the best, although I don't get down there much cause of gas :-X


16. If you were a Super Hero and your Jeep had extradinary powers, what would those powers be?
To create it's own gas. I like a challenge to get over things so I wouldn't want it to walk over everything that would make offroading boring. If it could create its own gas then I could take it everywhere and offroad all over the place.
17. If you could chose one new gift for your next birthday, would it be:
- a new 2009 4 door Jeep Wrangler Rubicon
- a fully restored, 1941 Jeep Willys
- world peace
- a million dollar gift certificate to http://www.allthingsjeep.com/
(this is a loaded question, we do hope you all choose world peace)
A fully restored 1941 Jeep Willy's, oh wait I didn't read the parenthesis, I guess I'll go with world peace then :-P.
18. What are your 3 favorite products available for sale at
http://www.allthingsjeep.com/
?
My favorite is the two
jeep flexfit hats
that say live without limits. I wear them every single day. My third favorite would be the
new Jeep sweatshirt that has the eagle and the tire track across it
. I also really like my
jeep comforter
!! it completed my totally Jeep room!
Thanks Derek