Last week we announced our annual Top 10 List of Cool Jeep Gifts for the Holidays. Here they are. We'd love to know what you think!
1. Our Cookie Cutters for the Jeep enthusiast - What better gift for your favorite "Jeeper" than a plate of yummy Jeep - inspired cookies. These handmade copper cookie cutters make both a front view and a side view of our favorite vehicle. The decoration is up to you! ($19.99)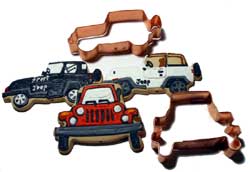 2. Just Arrived! A full line of Jeep Clip Watches, Pocket Watches and Multi-Tools - You need to know the time but hate wearing a watch? These handsome Jeep clip, carabineer & pocket watches do the trick. There are over a dozen to choose from, all sporting the rugged Jeep logo. (Starting at $39.99)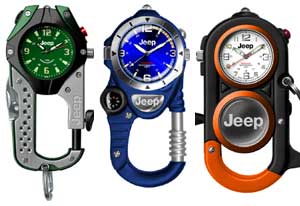 3. Jeep® Polar Fleece Vests - Brrrrrr. The weather outside is getting nippy and these warm polar fleece vests sporting the Jeep logo are just the layer you need to keep you toasty. We've got 4 colors and 4 sizes. Enjoy! ($29.99)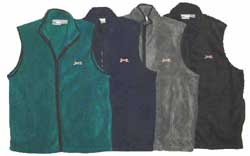 4. Holiday cards / greeting cards for Jeep lovers - Purchase these early enough and share the Jeep spirit with everyone you know. We have 6 different designs available, all original artwork. There's something magical about these cards. ($12/set)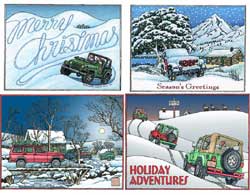 5. For Girls who love feminine pink and tough Jeeps, we bring you the "Pink Jeep" line! From pink Jeep hats to pink Jeep tees to pink Jeep license plates, who says Jeep girls need to look tough? ($7.99 and up)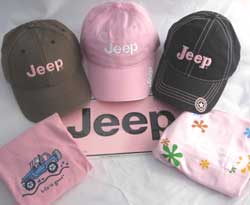 6. Jeep 2008 Wall Calendars - Count down the days to the next trail run with a Jeep calendar for your wall. It sure beats the one you get from the oil company every year. And there's a few to choose from. Starting at $9.99.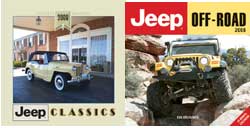 7. "Jeep-The Trail Never Ends" Wall Sign - Here's an inexpensive gift that truly epitomizes the feelings any Jeep owner has for their beloved vehicle. Finding this Jeep wall sign under the tree on Christmas morning will delight any Jeep owner. $10.99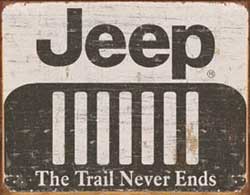 8. The Life is Good "Native Offroad" Jeep Coffee Mug - Start the morning out right with a diner-style coffee mug featuring a Jeep! Exclusively available here. $9.99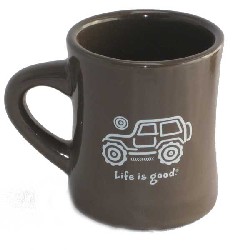 9. The Handiest Jeep Accessory on the list - You'll always have light with this super sturdy Jeep Dynamo Crank Flashlight. A couple of cranks of the handle and you'll have bright light whenever you need it. No batteries required. It's a perfect accessory for the Jeep, boat or home. (And it can power your cell phone also.) $29.99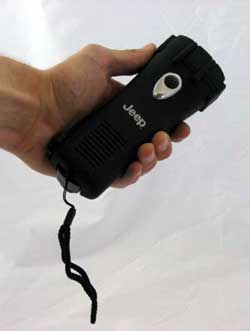 10. Choose from over 200 Jeep-licensed apparel items including t-shirts, sweatshirts, & jackets for men, women, children & babies. No, this isn't just one item. But with so many new Jeep apparel items, it was hard to choose our best pick. We'll leave this one for you. ($10 and up)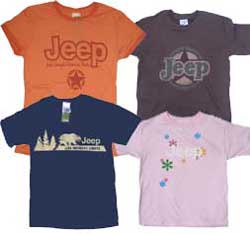 So, what do YOU think is the best Jeep gift? We'd love to hear your opinions. Thanks.