Norman Wnuk, founder and CEO of www.AllThingsJeep.com passed away last week, from a massive, unexpected, heart attack. He was 44. He was my husband. He was the founder of our business we ran together for 7 years. He was passionate about his love of Jeeps, his love of AMC Pacers (yes, I know, hard to explain that one), his love of creating & building things, his love of learning, his love of our business, and his love of his friends and family.
I don't want this blog article to be an obituary, but I feel the need to post my thoughts and put them out there in the world. So read on if you'd like, and shut down this window if you desire.
The reason I fell in love with Norman was because he was so passionate about learning and about doing well at the things that interested him. He comes from a family of business owners and after years of working for big companies, he knew the right thing for him, professionally & emotionally, was to build his own business. I came along for the ride. And it's been a ride. We used to argue with a friend of ours who also has an internet business. Our friend didn't really have any interest in the product he sold, he just enjoyed the business aspect of things. Norman, on the other hand, has been an avid off-roader & Jeeper for 20 years. He wanted to start a business that his heart was in, something he loved and was passionate about. The business person in him saw the opportunity on-line in e-commerce, and thus All Things Jeep was born.
Like most small businesses, we have struggled over the years. Will this work? Or will it fail? We have made our share of mistakes. But we've learned from them. We've worked harder than I ever thought possible, compromising many things in our lives and giving up a lot to grow and nurture our business. We are so attached to it. It is a part of us and our customers are a part of us. It is incredibly rewarding when we hear from our customers and we've made them happy.
Norman inspired me to set a goal and work to reach it, in spite of obstacles. He taught me to reach my limit, and then go beyond it. He made me realize that a commitment to something means doing whatever it takes. And we've always agreed that our customers are the most important part of our business.
My heart is pretty much breaking as I write this, but I wanted to share with our customers and anyone else who comes across this blog, that his live, which was way too short, ended when he was feeling good about reaching his goal of creating and running a successful small business. That was a giant dream of his. And he achieved it. And it IS because of our awesome customers. He died extremely satisfied with what he had achieved. (Of course, his Pacer restoration is not complete, but I know one of the 17 other AMC Pacer fans in the world will come forward and volunteer to finish the restoration!) Norman's life wasn't a flame that went out, but I think it was a spark that will keep many other flames alive. That's what he would want. And that's what he will get. Here he is in the CJ8, ready to overcome every obstacle that gets in his way.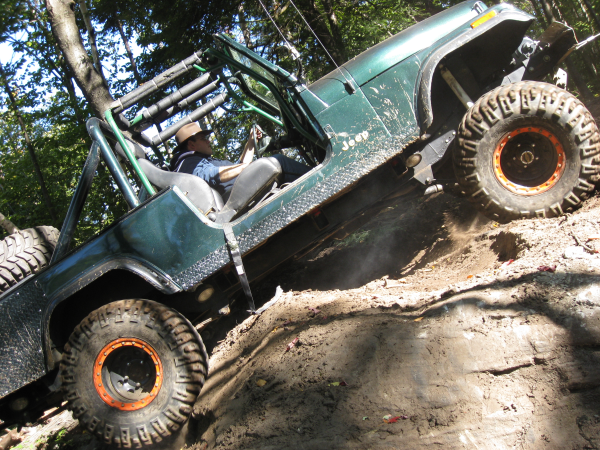 Norman, looking like the typical, young business owner.